Adidas forced to pull sexualised 'Lookin' to Score' World Cup t-shirts [Picture]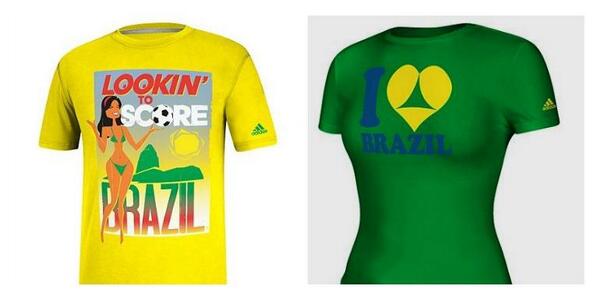 Brazil, land of sun, sea, and sex. Or so goes the popular perception of the World Cup 2014 host nation.
Looking to play up to that sexualised image, Adidas followed the business mantra 'sex sells' to an pretty smutty level, producing the above t-shirts as part of their World Cup merchandise.
Brazil's Tourism Board reacted strongly to the gimmick, and requested that Adidas cancel sale of the t-shirts as they encourage sex tourism.
President Dilma Rousseff even got involved, tweeting,
''Brazil is happy to receive tourists for the World Cup, but it is also ready to combat sex tourism."
Perhaps a bit of a po-faced move from Brazil, but then with the sex industry set to soar during the World Cup, one can understand their concerns.
Click here for more Premier League betting tips
---