VIDEO: Adebayor explains why he wore an Arsenal shirt in SSN interview yesterday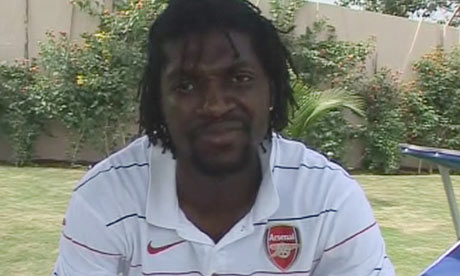 The bizarre image of Emmanuel Adebayor wearing an Arsenal shirt in an interview on Sky Sports News yesterday (see here) has been highlighted on nearly every football site imaginable today.
The Togo striker has been through a terrorist attack and is clearly distraught so the decision to wear an Arsenal shirt has been big news.
The Manchester City striker has now explained in a subsequent interview with SSN why he wore the Arsenal polo shirt and one would imagine the transfer rumour that Adebayor is set for a sensational reunion with Arsene Wenger can be put to bed.
Adebayor, wearing the Manchester City away shirt, said: "I realised this morning when I woke up that I was wearing an Arsenal shirt yesterday. What happened was that on the Angola border, we left all our baggage on the bus and ran away. So I had nothing to wear and the first person I asked gave me that shirt. I didn't even realise what I was wearing. Even yesterday, instead of going to my room to sleep I went to the wrong room. Everyone is confused about what happened. In our heads we don't know what we are doing."
The interview with Adebayor can be seen here.
---