AC Milan will sell Mario Balotelli to Arsenal for €10m plus Joel Campbell [Tuttosport]
Once again the belief that Mario Balotelli may join Arsenal in touted in the Italian press, as Tuttosport splash their front page with an tempting offer for Gunners fans.
In a deal which is said to be the brainchild of the Rossoneri, AC Milan are willing to sell Super Mario to Arsenal for the incredible cheap price tag of €10m plus Joel Campbell.
According to Tuttosport, Campbell was already on the viewfinder of Milan after the Costa Rica excelled at Olympiakos last campaign.
The ball now seems firmly in the Gunners court, and it's unknown how Arsene Wenger will react to new offer from Milan.
It's worth remembering, however, that during the World Cup, Wenger appeared on beIN Sports to categorically deny the rumours then doing the round regarding Balotelli. Back then, Wenger told the camera that the deal was "pure invention".
Today, though, the landscape seems rather different.
(Credit to Sport Witness for the graphic below)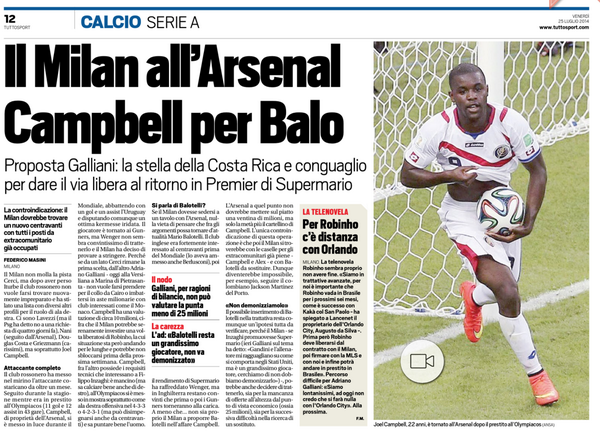 ---