Absolutely Mental! A linesman beats the crap out of a pitch invader in Trinidad (San Fernando v Shiva Boys)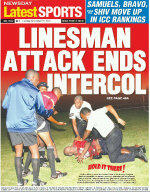 2012 maybe drawing to close, but this could be one of the craziest videos we've posted in the last twelve months.
On Tuesday night in Trinidad, the stereotypical laid-back Caribbean atmosphere was nowhere to be seen during the long-winded named Coca Cola Secondary Schools Football League South Zone InterCol final between Presentation College San Fernando and Shiva Boys Hindu College.
Presentation College San Fernando were leading 2-1 in the match, when a fan from the Shiva Boys section burst onto the pitch and began assaulting the the linesman after his team had a penalty appeal turned down. What happened next, however, was unbelievable.
Rather than simply allowing the fan to get away with his assault, the well-built lino, Mr. Kevin Charles, gave as good as he got by beating the crap out his bare-footed assailant.
Using his flag as a weapon, the linesman pounded the pitch invader with a series of punches to the head before security officials finally got involved and broke up the warring twosome.
The match was abandoned as a result of a mental scenes, and the incident has since become headline news in the country.
(Thanks to @ibrasi for the tip off)
Watch the Trinidadian linesman beat the crap out of a pitch invader below.
[jwplayer config="For-all-videos" mediaid="263019″]
Related link: Contender for the Craziest Assault of the Season: A Turkish linesman punches a footballer in the face
Best football betting tips & free bet offers
Click here for more Premier League betting tips
---