A letter from Fergie to female physiotherapist in 1994 saying Man United players didn't want to work with women
A letter written by Sir Alex Ferguson in 1994 is suddenly getting attention in relation to Manchester United declining the application of a female physiotherapist.
The release of the letter comes at a time when sexism is a topic hotly up for debate after the FA's Richard Scudamore was caught sending offensive private emails to colleagues.
The letter from Sir Alex went into detail about why the application from a female was specifically turned down because of her sex. It read:
The general thoughts of the players regarding a female physiotherapist was that they would prefer to be treated by a male physiotherapist, the would feel more comfortable and they felt it would be much easier to discuss their problems with another male.
Most of the players felt that football was very much a male sport, and did not really like the thought of females being involved with the treating of sports injuries within the training complex although they did not object if they had to see a female physiotherapist at a hospital or sports clinic.
Read the whole letter below.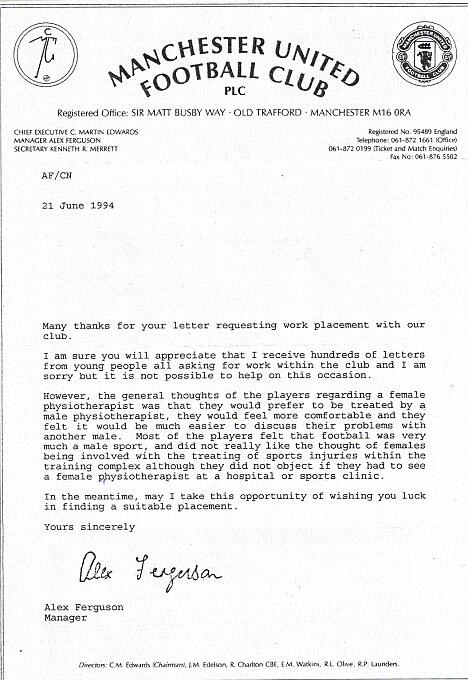 ---
GAMBLING CAN BE ADDICTIVE, PLEASE PLAY RESPONSIBLY