A goal of the season contender you won't have seen: Thamsanqa Sangweni (Amazulu) v Witbank Spurs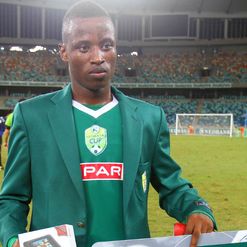 "I saw that the keeper was not well positioned and I decided to take a shot. To be honest, it's something I like to do at training but I was just trying my luck." – AmaZulu midfielder Thamsanqa Sangweni.
We are indebted to many of you for sending us tips of "great goals you won't have seen" or other assorted clips from the football world on a daily basis.
Over the weekend, we received a deluge of South Africans telling us to find the goal scored by Thamsanqa Sangweni to secure a 1-0 win for Amazulu in a South Africa Cup match against Witbank Spurs.
Fittingly, it was the only goal of the game and came in the 29th minute. Sangweni unleashed a ferocious volley from at least 35 yards out and its comparable, if not even better, than Peter Crouch's wonder goal for Stoke v Manchester City.
Incredibly, reports in South Africa since the goal flashed in, suggest that Sangweni hit the ball with his weaker foot!
Video of Thamsanqa Sangweni's goal of the season contender for Amazulu v Witbank Spurs is here.
---