A comprehensive list of Zlatan Ibrahimovic's greatest ever goals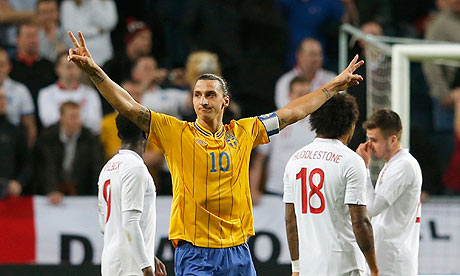 Before scoring 4 goals against England on Wednesday night, there were certain sections of the Three Lions support singing to Zlatan Ibrahimovic "you're just a s*** Andy Carroll."
It is fair to say that Zlatan was a great player long before his 4-goal haul against England and the way he was considered by many in the British Isles before tonight was nothing short of a scandal.
There are also a fair few comments making their way round the world wide web suggesting Zlatan's 4th goal against England wasn't even the Super Swede's best ever goal.
Which sounds a little crazy, until you see the videos below.
At first we were intending to limit this to 10 Golazos but since there are so many, it has no limit. If you think we have missed any out, please let us know in the comments and we will add them in.
Zlatan Ibrahimovic wonder goal for Malmo v AIK
Zlatan Ibrahimovic (Ajax) overhead v AZ
[jwplayer config="For-all-videos" mediaid="259211″]
Zlatan Ibrahimovic (Ajax) solo special v Celta Vigo
Zlatan Ibrahimovic (Ajax) epic dummy golazo v NAC Breda
[jwplayer config="For-all-videos" mediaid="259188″]
Zlatan Ibrahimovic (Juventus) wonder strike v Benfica
[jwplayer config="For-all-videos" mediaid="259192″]
Zlatan Ibrahimovic (Juventus) amazing flick-up, run & finish v Roma
[jwplayer config="For-all-videos" mediaid="259210″]
Zlatan Ibrahimovic (Sweden) back heel flick v Italy
[jwplayer config="For-all-videos" mediaid="259190″]
Zlatan Ibrahimovic (Inter Milan) 124 km/h v Palermo
[jwplayer config="For-all-videos" mediaid="259313″]
Zlatan Ibrahimovic (Inter Milan) picture perfect strike v Torino
[jwplayer config="For-all-videos" mediaid="259335″]
Zlatan Ibrahimovic (Inter Milan) back heel v Atalanta
[jwplayer config="For-all-videos" mediaid="259206″]
Zlatan Ibrahimovic (Inter Milan) Kung Fu v Bologna
[jwplayer config="For-all-videos" mediaid="259193″]
Zlatan Ibrahimovic (Inter Milan) stunning free-kick v Fiorentina
[jwplayer config="For-all-videos" mediaid="259196″]
Zlatan Ibrahimovic (Inter Milan) beautiful lob v Reggina
[jwplayer config="For-all-videos" mediaid="259203″]
Zlatan Ibrahimovic (Inter Milan) stunning strike v CSKA Moscow
Zlatan Ibrahimovic (Sweden) explosive goal v Hungary
[jwplayer config="For-all-videos" mediaid="259202″]
Zlatan Ibrahimovic (Barcelona) El Clasico volley winner v Real Madrid
[jwplayer config="For-all-videos" mediaid="259194″]
Zlatan Ibrahimovic (Barcelona) amazing free-kick v Real Zaragoza
[jwplayer config="For-all-videos" mediaid="259209″]
Zlatan Ibrahimovic (Sweden) howitzer v Greece
Zlatan Ibrahimovic (AC Milan) what a hit v Brescia
[jwplayer config="For-all-videos" mediaid="259208″]
Zlatan Ibrahimovic (AC Milan) glorious strike v Lecce
[jwplayer config="For-all-videos" mediaid="259195″]
Zlatan Ibrahimovic (AC Milan) acrobatics v Fiorentina
[jwplayer config="For-all-videos" mediaid="259218″]
Zlatan Ibrahimovic (Sweden) wonder volley v France
[jwplayer config="For-all-videos" mediaid="259191″]
Zlatan Ibrahimovic (PSG) Kung-Fu kick goal v Marseille
[jwplayer config="For-all-videos" mediaid="259189″]
Zlatan Ibrahimovic (4) ridiculous overhead kick from outside the box v England
[jwplayer config="For-all-videos" mediaid="259187″]
Best football betting tips & free bet offers
Click here for more Premier League betting tips
---