A Burnley fan boasts on Twitter that he hit QPR's Joey Barton on the head with a coke bottle [Picture & GIF]
In other news. 3 eyed people are really good shots with plastic coke bottles, so be careful out there… http://t.co/n3sfsfAAX5

— Joseph Barton (@Joey7Barton) October 27, 2013
The 3 eyed also have no concept of keeping quiet and getting away with it. So punched in the arm 1 week at Millwall during the game by a fan

— Joseph Barton (@Joey7Barton) October 27, 2013
The next week the coke bottle thing. Great safety in the Champ. If it was the other way round and I reacted, I'd be banned. Great that.

— Joseph Barton (@Joey7Barton) October 27, 2013
I would never ask for a fan to be banned for getting carried away. We all do it at football matches. But enough is enough.

— Joseph Barton (@Joey7Barton) October 27, 2013
The next one is getting Cantona-ed…

— Joseph Barton (@Joey7Barton) October 27, 2013
That was a joke before anyone starts flipping. Really not that arsed. Part of the modern game. Sadly. #joke

— Joseph Barton (@Joey7Barton) October 27, 2013
We can't say for sure whether @billymooring, who describes himself as an "unsuccessful student", was indeed the person responsible for throwing a coke bottle at Joey Barton's head on Saturday, however the fact that a football fan would want to claim such acknowledgement is shameful.
Few players in the world football circuit seem to attract more hatred than Joey Barton, yet football fans are never entitled to get physical with their foes. That line was crossed at Turf Moore on Saturday.
During QPR's 2-0 away defeat at Burnley, a coke bottle was hurled from the stands by a Burnley fan, and the object smacked Joey Barton on the head.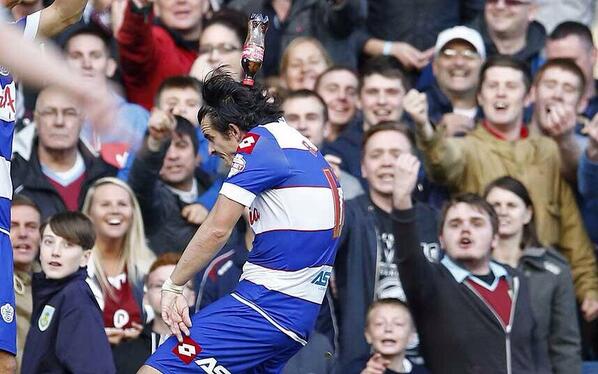 It was a shameful, deplorable act, however many trolls couldn't help to celebrate the act which was beautifully preserved in a still image.
Happily @billymooring has received some Twitter backlash for positioning himself as the guy who assaulted Barton, while the student may want to find some legal counsel as we can only hope that the police will pay him a visit on Sunday.
A GIF of the incident together with the claim of responsibility from Billy Mooring can be seen below.
---