A Barcelona fan claims he was beaten up by police during the Copa Del Rey final [Pictures]
Allegations of police brutality are covered in many of the Spanish press on Friday as a Barcelona fan has claimed he was beaten up by police during the Copa Del Rey final.
Rafael Martin, a Barcelona member, was held overnight in a prison cell in Valencia after he it was claimed he was arrested for not showing ID to a policeman.
Once behind bars, the Barca fan alleges he was attacked by eight policeman.
Rafael Martin has explained to SPORT that:
In the middle of the match I went to the toilet, when I was met by eight policeman as I climbed the stairs.
Without saying anything one of them grabbed me by the neck and screamed 'You'll find out, Catalan shit.'
Immediately I started getting punched in the face and on my whole body. They took me to a police van where I could feel one hand holding my neck. I was being choked and I thought they might kill me
I was handcuffed, not read me my rights, before I was taken to the police station and then to a hospital because I asked to make a medical report.
I spent the night in jail and in the morning I was released without bail, accused of refusing to show my ID.
See the horrible injures suffered by the Barcelona fan below.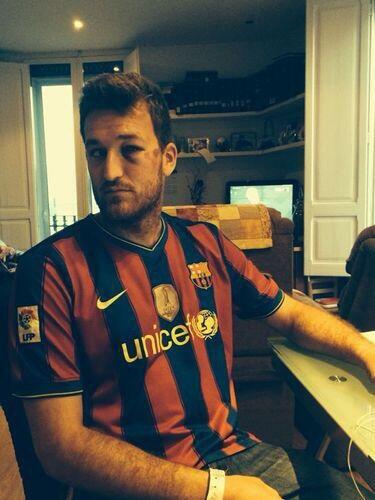 Click here for more Premier League betting tips
---