3rd Time! Luis Suarez BITES Giorgio Chiellini on the shoulder during Italy 0 – Uruguay 1 [GIF & Vines]
Luis Suarez, 'the changed man'.
The Liverpool and Uruguay striker, who had apparently left all his ultra-violence and cannibalistic behaviour behind him, bit out again today – the third biting incident in his career.
With 10 minutes remaining in Uruguay's group game against Italy today, Suarez leaned into Italy defender Chiellini and bit him on the shoulder.
Chiellini pulled back his shirt, and showed clear red bite marks on his shoulder.
The most incredible thing about this – and there are many! – is that Uruguay were in almost complete control: Italy down to 10 men, their best striker off; the game was going Uruguay's way.
So why ythe f**k would he do this?!
What will be done about this, surely FIFA have to act and….
neuter him?
Vines and picture below the fold.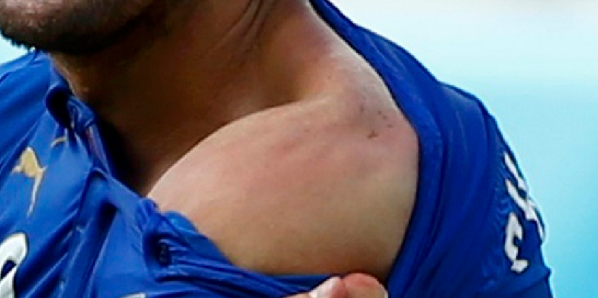 ---
GAMBLING CAN BE ADDICTIVE, PLEASE PLAY RESPONSIBLY