28 minutes and out: Cesc Fabregas (Arsenal) vs Aston Villa (VIDEO)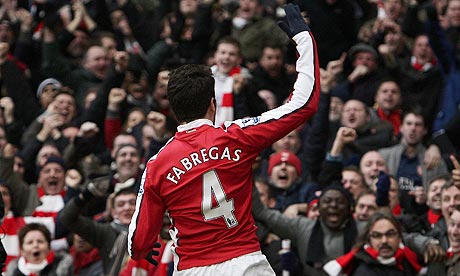 The truly great footballers are said to be able to turn a match in an instant.
After 56 minutes at the Emirates on Sunday, Aston Villa were looking good value as potential Top Four gatecrashers as the Midlands outfit were battling it out toe-to-toe with Arsenal. Aside from an early Edaurdo chance, Villa were looking just as capable as the hosts to break the deadlock, while the Gunners, short of Robin van Persie in attack, struggled to give off the impression that they could dominate the visitors miserly backline.
And then Arsene Wenger brought out his ace, calling on captain Cesc Fabregas to come off the bench in a decision that single-handedly changed to outcome of the game.
Clearly less than fully fit, nursing the hamstring injury that has disrupted his contribution in the last month, Fabregas still had enough in his locker to propel Arsenal back into a title race they appeared to be knocked out of after Chelsea's 3-0 triumph here a month ago.
Not only did the little Spanish wizard produce the vital opening goal with a delicious free-kick that gave sprawling Villa keeper Brad Friedel little chance, but he followed it up with a second goal that was equally brilliant in its own way. Showing energy and desire to get to a pass from the lighting quick Theo Walcott, Fabregas' lofted finish was excellently executed.
Sadly, though, the Spaniard's afternoon lasted just 28 minutes as Cesc aggravated his hamstring injury that has kept him on the sidelines in the past few weeks. Arsenal fans will be hoping that suggestions of another three weeks absence for their captain proves to be an exaggeration.
Individual match highlights of Cesc Fabregas wonderful cameo against Aston Villa can be seen here.
---
GAMBLING CAN BE ADDICTIVE, PLEASE PLAY RESPONSIBLY