1994 & 2013! Compare 2 Ryan Giggs goals for Man United at QPR, 19 years apart!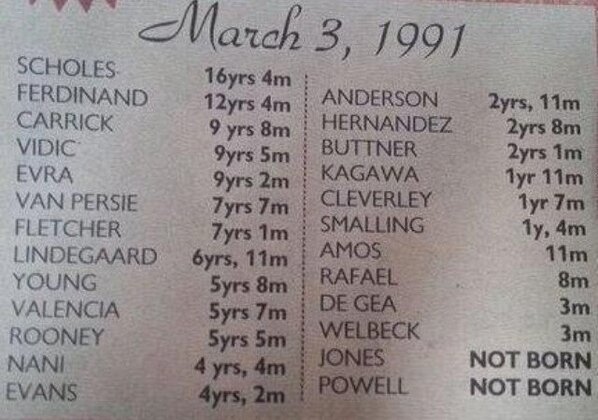 In recent days an incredible graphic has been doing the rounds – the ages of current Manchester United squad players when Ryan Giggs made his Manchester United debut on March 3, 1991.
The graphic can be seen on the left of this article and it puts in perspective just what an incredible and amazingly long and successful career Ryan Giggs has had.
We received another reminder of just how ageless Ryan Giggs is when he scored at QPR on Saturday to seal another Manchester United away win.
It would take something pretty remarkable for Manchester United to fail to win another league title and Ryan Giggs will have again played his part.
Giggs, 39, played the full 90 minutes at Loftus Road on Saturday and produced a very tidy finish with ten minutes to go, from a Nani pass, to secure a 2-0 victory.
It just so happened to be Ryan Giggs' 999th appearance (wow!) and came on the same ground where he scored one of the most memorable goals of his career.
On February 5, 1994, over 19 years ago, Ryan Giggs scored what would now be termed a wonder slalom Golazo and it would undoubtedly be included in any top 10 compilation of the Welsh wizard.
If yet more perspective were needed on just how long Ryan Giggs has been playing top class football, the Manchester United legend robs Ray Wilkins (currently aged 56) in midfield for the goal in 1994.
The two Ryan Giggs goals v QPR, in 1994 and 2013, can be seen on the videos below.
---
GAMBLING CAN BE ADDICTIVE, PLEASE PLAY RESPONSIBLY