101GG visits the groundbreaking adidas lab and get an interview with Michael Ballack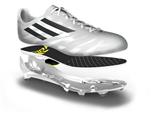 Adidas invited a host of journalists to their 'adidas lab' on Friday to witness first hand the future developments taking place within football.
So 101GG took the chance to pop down to London and see exactly what the fuss is all about.
There were some pretty amazing things on show, such as their new lightweight boot, weighing less than the iPhone 5.
Pictured above, the 99 gram boot will be introduced in 2015 and could revolutionize footballer's footwear.
Adidas Innovations Director Antonio Zaher described the new piece of footwear as the 'Ultimate speed boot'.
Could it be a danger to players feet? We're not sure, but we're definitely excited to see it being implemented in the Premier League.
An incredible full kit including boots, socks, shin-pads, shorts and a top was also on display weighing a grand total of only 630 grams.
101GG was then whisked away for a group interview with ex-Chelsea, Bayern and Leverkusen legend Michael Ballack.
Ballack declared this current Bayern Munich as better that the 70's Bayern team of Franz Beckenbauer.
He describes Saturday night's epic encounter as being 'Bayern's time' thanks to their 'mental advantage over Dortmund due to appearing in many more finals'. Ballack implied that Dortmund, may just be happy to be there.
When asked on which young player has impressed him most in the Premier League this season, Ballack described Jack Wilshere as being on the 'level, or nearly on the level of Gotze and Reus… These kind of players will be the future of international football'.
The boot and a video created by SoccerBible can be seen below:
Michael Ballack was speaking at the adidas lab, showcasing the latest innovations at the cutting edge of football. For more information visitwww.adidas.com/football or join the conversation @adidasfootball #allforthis
---