10/10: L'Equipe & Gazzetta award Robert Lewandowski maximum ratings v Real Madrid
Robert Lewandowski has got many very excited overnight.
Borussia Dortmund's centre-forward achieved a historic milestone scoring four goals against Real Madrid in the Champions League semifinal, and journalists around Europe have been quick to grade the Pole's performance in their papers.
L'Equipe, the French daily known for being stingy with their player rating, awarded Lewandowski 10/10. It's the first time the paper have handed out their perfect rating since Lionel Messi scored five goals against Bayer Leverkusen back in May 2012.
But L'Equipe haven't been alone in their A-star grading, as Italy's Gazzetta Dello Sport have joined the Lewandowski fanclub with another 10/10.
Pictures of L'Equipe & Gazzetta's grades can be seen below, along with some more data on the overall ratings from Dortmund 4 – Madrid 1.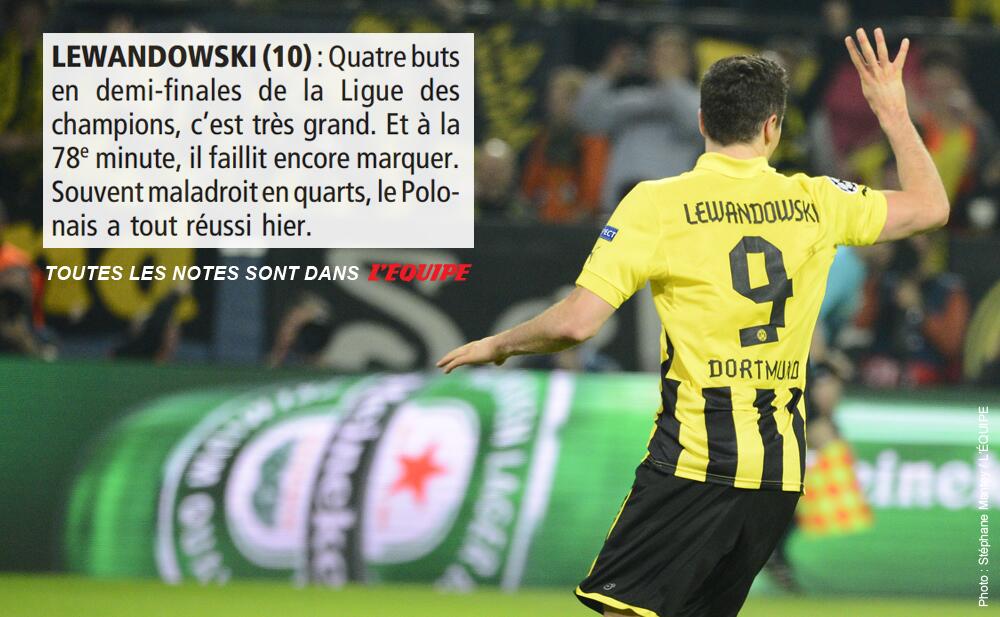 L'Equipe ratings, Real Madrid: Lopez 4; Ramos 4, Varane 4, Pepe 2, Coentrao 3; Khedira 5, Xabi 4; Modric 4, Ozil 3, Higuain 5; Ronaldo 6

— Ben Lyttleton (@benlyt) April 25, 2013
L'Equipe ratings, BVB: Weiden 7; Pisccz 7, Hummels 3, Subotic 7, Schmelz 7; Bender 7, Gundo 8; Reus 8, Gotze 7 Blaszcz 7, Lewandowski 10

— Ben Lyttleton (@benlyt) April 25, 2013
---
GAMBLING CAN BE ADDICTIVE, PLEASE PLAY RESPONSIBLY