10 reasons why Arsenal can win the 2014/2015 Premier League
Grab scandalous odds on Arsenal winning the Premier League 2014/2015 with Boylesports at 11/1.
Undoubtedly the best value of any of the likely top four in the Premier League this coming season is Arsenal.
Most bookies have Arsenal as fourth favourites but of all the sides who will be challenging we feel Arsene Wenger's side are best placed to actually win the Premier League as they have plenty of momentum from the past few months both in terms of silverware and in the transfer market.
Here are ten reasons why you should back Arsenal to win the Premier League and potentially cash in come May 24, 2015.
1. Alexis Sanchez. Arsene Wenger pulled off another masterstroke this summer by bringing in the Chilean World Cup star. A criminally underused attacker at Barcelona, Wenger used Luis Suarez's move to Catalonia to benefit Arsenal just as Gareth Bale's transfer to Real Madrid enabled Arsenal to bring in Mesut Ozil.
Sanchez is no ordinary player. Chile's best player and a forward compared to Cristiano Ronaldo during his time at Udinese. In 27 starts for Barcelona last season, he bagged 19 goals and 10 assists. With the confidence and support he is set to gain from Wenger and the Emirates crowd, it will be no surprise to see Sanchez hit the ground running.
2. Mesut Ozil. It became general opinion that the German World Cup winner struggled to truly make an impact at Arsenal in his first season. Undoubtedly he was a little off the pace in the early part of 2014 but this is a player who has claimed the FA Cup and World Cup in recent months.
When Ozil did struggle a little, it was just after Theo Walcott picked up his season ending injury and Aaron Ramsey was also laid off. With electric runners in front such as Walcott and Sanchez, combined with Ramsey coming from deep, Ozil will surely rack up a ton of assists. Last season the majority of his assists came away from home, with pace to burn in this Arsenal side, it will likely be a similar story in 2014/2015.
3. A core of young players have come through together. Wojciech Szczesny, Kieran Gibbs, Aaron Ramsey, Theo Walcott, Alex Oxlade-Chamberlain and  Jack Wilshere give the Gunners a base of players that have grown up together which every successful side needs.
Whilst Wenger was constrained with buying in players when Arsenal left Highbury for the Emirates, The Professor did a super job of building the foundations of his new side with English players, allowing him to sprinkle in the Galacticos (Ozil and Sanchez) when finances allowed.
4. Arsene Wenger. Three Premier League titles leave Wenger as by far the most experienced manager in England's top flight. Manuel Pellegrini only tasted real European success in the last campaign. Louis van Gaal is new to the Premier League. Brendan Rodgers has very little silverware on his CV.
Which leaves just Jose Mourinho. And, after the last few months, The Special One (who went a whole campaign with nothing tangible to show for it) is looking a little lost in Wengr's shadow. Especially after the infamous "Specialist in Failure" comment.
5. Mertesacker/Koscielny partnership. When Arsenal lost 2-1 to Spurs in March 2013, then Spurs boss Andre Villas-Boas predicted that their great north London rivals would hit a "downward spiral."
Instead, for the next game, Wenger paired Laurent Koscielny with Per Mertesacker in the centre of defence and dropped Thomas Vermaelen. Arsenal won 2-0 at Bayern Munich, exited the Champions League for that season, but never looked back.
Grab scandalous odds on Arsenal winning the Premier League 2014/2015 with Boylesports at 11/1.
6. The return of Theo Walcott. Before the England flyer got injured at the beginning of 2014, he was in supreme form. Five goals in six games preceded a display against Tottenham in the FA Cup where he performed as a central striker and was excellent.
This season Walcott will be afforded time to return properly and should be rested accordingly. The twin pace threat of Sanchez and Ozil is the type that wins Premier League titles. And, harks back to the days of Marc Overmars and Freddie Ljungberg motoring down the wings in Wenger teams of days gone past.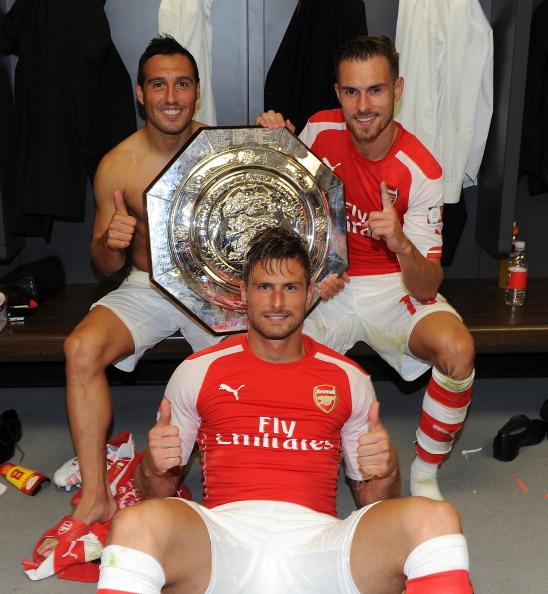 7. Aaron Ramsey. The Welshman is just 23. Like a host of other Arsenal players in the squad, Aaron Ramsey is not even close to hitting the peak of his playing powers. Goals from midfield are a precious commodity in the Premier League and last season appeared to signal that Ramsey can do what the likes of Yaya Toure and Frank Lampard have achieved previously in England's top flight.
8. More striker options. As it stands, the reliance on Olivier Giroud appears to be a problem from last season. Yaya Sanogo impressed in pre-season. Similarly, Joel Campbell was one of the best players at the World Cup.
Alexis Sanchez can also play centrally. As can Theo Walcott. And, we haven't even mentioned Lukas Podolski, one of the most accurate strikers of a ball in English football.
There is strength throughout the Arsenal squad, Nacho Monreal, Calum Chambers, Tomas Rosicky and Santi Cazorla for example, are all not assured a place in the starting XI but nevertheless are terrific players.
9. Silverware breeds more trophies… The FA Cup win over Hull was a big moment in Arsenal's history. Finally, the Gunners could put a new trophy banner up at the Emirates and the monkey on their back of no silverware since 2004 was gone.
The Community Shield followed and now Arsenal fans are yearning for a Premier League title. There are numerous examples of cup trophies providing the impetus for further silverware. One pertinent example is George Graham's Arsenal that started with a 1987 League Cup win and subsequently went on to plenty of league and European success.
10. Arsenal's new fitness coach Shad Forsythe.
Grab scandalous odds on Arsenal winning the Premier League 2014/2015 with Boylesports at 11/1.
---
GAMBLING CAN BE ADDICTIVE, PLEASE PLAY RESPONSIBLY