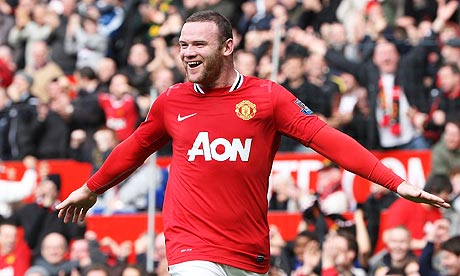 Comment & analysis round-up
Quote of the day: "That's a bonus, I didn't expect that. It was a surprise. They did us a favour, I suppose. More important was our performance. This time of season you always say points will be dropped. It's important to just make sure you don't drop as many as your opponents. I don't care about being top of the league just now. I'm happy to be there because only a few weeks ago we were seven points behind at one time. Credit to the players and the resilience of the squad because everyone knows we have had a lot of injuries. We needed that performance after the disappointment of Thursday against (Athletic) Bilbao." – Sir Alex Ferguson.
Runner-up: "We lost two games in four days, which is a bad moment. We've lost a few players through injury which may be a problem. The season is long. This doesn't change anything. The same thing can happen to United in their next game and we could be top again. We might not be at the top now, but United had an easy game. We missed three or four chances on the counter-attack. That is the problem at the moment, and then we conceded a stupid goal. Gareth has had a problem for three weeks and they had a lot of possession in the first 30 minutes. We needed another striker to press the ball. He wasn't happy, but I decide this. He has to accept. I am the manager." – Roberto Mancini.
Today's top stories
Manchester City lose ground in the title race
Mario 'n Toure row as City slip (Martin Blackburn, The Sun) "Mario Balotelli  and Yaya Toure had a heated half-time row as Manchester City blew their title advantage. Swansea sub Luke Moore's 83rd-minute winner allowed Manchester United to leapfrog their neighbours and go top of the Premier League. And City's frustrations boiled over as two of their key stars began shouting at each other in the tunnel at the interval. Roberto Mancini's men had taken a long time to get going against a fired-up Swansea outfit. Balotelli and Toure were deep in conversation as they left the pitch at the break and again when they reappeared for the second half. But they had an angry exchange after entering the tunnel, even though Mancini insisted he knew nothing of it."
Time for Man City to send for a firework? (Jamie Redknapp, Daily Mail) "A manager under pressure can make rash decisions; but I wonder if a controversial thought is running through the mind of Roberto Mancini. One that would have been unthinkable a month ago. One that might not be popular, but might be necessary. City are outstanding at home, but lethargic away. Next on their travels, they go to Stoke and Arsenal. Is it time to set off the firework that is Carlos Tevez?"
Brendan Rodgers should be on the England shortlist (Rob Smyth, Guardian)
Slack City knocked off their perch by Moore's header (Phil Cadden, Independent)
Manchester City's Roberto Mancini admits side are tired but will fight rivals United all way for Premier League title (Graham Clutton, Daily Telegraph)
Rooney: Ain't no topping us now (Neil Custis, The Sun)
Norwich 1 – Wigan 1
Roberto Martínez's faith in system hints at brighter future for Wigan (David Pleat, Guardian)
Harry Redknapp
'Arry raps Lions link (Paul Jiggins, Sun)
Tottenham have to act now to end speculation surrounding manager Harry Redknapp and England job (Alan Hansen, Daily Telegraph) "Footballers will always look for excuses when things are going wrong and, having now lost three successive Premier League games, things are clearly not going right for Tottenham. The simple fact is that the Spurs players are picking up newspapers and watching sports channels every day and seeing Harry being linked with the England job. They will all be wondering what is going to happen. And I think it's only natural that Harry's head will be all over the place too because the England issue has become a huge distraction. He is faced with a double whammy because he has everybody linking him with the England job at the same time as trying to get his team back on track. Through no fault of his own, Harry is in limbo and Spurs are suffering the consequences. Three defeats on the bounce is not just bad luck or a coincidence."
Chelsea
Unfashionable he may be, but Benitez offers best value to Chelsea (Ian Herbert, Independent)
Goal-line technology
Don't blame Atkinson for Reebok blunder, we need technology (Graham Poll, Daily Mail)
TV
Mario Balotelli's mystique swept away in mundane 15 minutes with Oasis icon and Man City fan Noel Gallagher (Jonathan Liew, Daily Telegraph)
Has Match of the Day gone too early with Agony of Relegation special? (Martin Kelner, Guardian)
Gossip
Podolski agrees £10.9m Arsenal switch with Cologne striker set for £100k-a-week Emirates deal (Sami Mokbel, Daily Mail)
Suarez: I could come to PSG (Daily Mirror)
Arsene Wenger wants to sign Montpellier's Younes Belhanda (Sun)
India's football IPL
Indians insist their cash-rich football circus can still fly high (Andrew Buncombe, Independent)