The miracle of Barcelona: Courageous Chelsea described as "incredible" & "magnificent" in the back pages
Wednesday, April 25th, 2012
Comment & analysis round-up
John Terry: "I feel as though I've let them down. I've apologised to them. I want to apologise to the Chelsea fans as well. I'm disappointed but the lads deserve to be in a Champions League final. I've raised my knee, which maybe I shouldn't have done. It looks bad on the replay but people that know me know I'm not that type of player."
Frank Lampard: "It's one of the finest moments in a Chelsea shirt. I know people want to see beautiful football but with 10 men to play for 50 minutes and to be 2-0 down here and to perform like that – what spirit – unbelievable. That clock wasn't half slow in the second half. There was a determination about us and you get what you deserve and we were all in it together today. And what a fantastic result. Of course, Chelsea people have a lot of love and respect for Jose Mourinho but we are just delighted to go through."
Fernando Torres: "For those players who lost three years ago, it is a sure way to get even. For those of us who weren't there, it is the last step towards a Champions League final. We have qualified for two finals and we will continue fighting to get fourth place in the Premier League. We have had a bad season in the Premier League it can still end up a memorable year. We will miss a lot of players in the final but the important thing is to continue like that and believe we will triumph. I don't have a preference for the final because if we want to win we have to beat everyone."
Roberto Di Matteo: "It was an incredible game. So many things happened. I'm very happy and pleased for all the players because they deserved this moment. We've had a difficult season and we seem to always get something special out when we need to. I think that's part of the DNA of these players. It's historic for our club, and then we'll see which players will be available for the final. I'm sure we'll put a strong team together which will make Chelsea proud."
Chelsea are in the Champions League final!
Stuff purism, Chelsea's victory over Barcelona was a triumph of sheer will (Martin Samuel, Daily Mail) "The captain got sent off. The other centre half lasted 12 minutes. Just about everybody who could not afford to get booked got booked. Jose Bosingwa played centre half for 64 minutes. In the Nou Camp. Against Lionel Messi and the best team in the world – a team who have now scored 104 goals at home this season. And they have, remember, no permanent manager. Yet somehow, against all the odds, logic, expectation, the formbook, the coaching manuals and every credible assessment of how to run a football club (continuity, long-term planning) or win a football match at the Nou Camp (keep 10 men on the field, don't let Barcelona score two goals before half-time or give away a penalty), Chelsea have made it to the Champions League final. They get there on one leg, missing John Terry, Branislav Ivanovic, Ramires and Raul Meireles – and hoping against hope that Gary Cahill and David Luiz return from injury – but do not bet against them in whatever circumstance. Never bet against them after this."
Salute the incredibles! Terry off, 2-0 down but brave Blues hit back to reach final (Matt Lawton, Daily Mail)
Messi would have been proud of Ramires' magical goal (Martin Keown, Daily Mail)
Chelsea prove at Barcelona that adversity brings out best in them (Richard Williams, Guardian)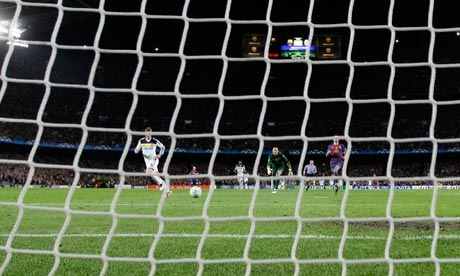 Torres sets seal on the miracle of Barcelona (Sam Wallace, Independent) "On the occasion of the great Nou Camp siege of 24 April, 2012, the ten men of Chelsea held the fort and through the drama, the desperation and their sheer bloody determination they saved the best moment until last. That was undoubtedly when Fernando Torres, the browbeaten, weight-of-the-world-on-his-shoulders, pnds50m man ran free on the Barcelona goal, tricked his way past Victor Valdes and slotted in the goal that secured Chelsea's passage to the Champions League final. It had been a magnificently gritty performance but Torres' finale gave it that flourish of style it deserved."
After Terry atrocity, Chelsea heroes produce performance of their lives (James Lawton, Independent) 
Chelsea reach Champions League final as Fernando Torres has final word in 2-2 draw against Barcelona (Henry Winter, Daily Telegraph)
John Terry's moment of madness
Why that moment of madness will haunt Terry forever (Ollie Holt, Daily Mirror) "As he walked towards the tunnel, his face reddening, he must have thought he had cost his team a place in the Champions League Final. In the end, John Terry only cost himself. He cost himself the honour of being part of one of the most incredible team performances in Champions League history. He cost himself the chance of being involved in one of the most remarkable feats of defiance football has ever seen. He cost himself a part in Chelsea's momentous draw with Barcelona. Against all odds. Against astonishing odds. He cost himself the privilege of being part of an occasion that somehow matched the 1999 Champions League final here for mind-blowing drama."
John Terry's foolishness in Barcelona denies him shot at Munich glory (Dominic Fifield, Guardian)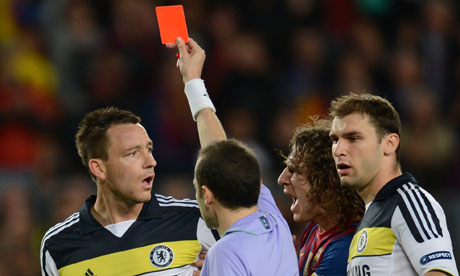 Brain-dead Terry pays penalty for moment of madness (Steven Howard, Sun)
John Terry loses out on chance of redemption after Chelsea captain sent off for kneeing Alexis Sanchez (Paul Hayward, Daily Telegraph)
What happened to Barcelona?
No plan B sees brainless Barcelona go down to courageous Chelsea (David Pleat, Guardian) "Chelsea were brave. Barcelona lacked brains. Sometimes you have to be blockers, hackers and whackers to achieve your goal and Chelsea chased and harried to prevent the waves of Barcelona attacks overwhelming them. The Barça performance gave ammunition to opponents of tiki-taka, as they played overly patient football against a lion-hearted Chelsea, who were left a man short after John Terry's red card. Having the ball for 70% of the game is a futile statistic if you lose sight of your purpose in the last 40 yards. Incredibly, for all their instant control and movement, Barcelona could not penetrate Chelsea and drag defenders away from the centre. If ever they needed a different approach, it was here."
Chelsea ride their luck with 'blue angel' sitting on their goal taunting Barcelona's Lionel Messi (Jason Burt, Daily Telegraph)