Comment & analysis round-up
Quote of the day: "Robbie is determined to go for glory against Bayern, even though he's resigned to leaving regardless of what happens in Munich. He has tried to talk to the club's hierarchy about pre-season training for next season and been given very short shrift. That convinced him he really is just an 'interim' manager, filling the post until a full-time appointment can be made. He's hugely disappointed after the miracles he has worked here since taking over from Andre Villas-Boas in March. Two Cup finals is an amazing success after inheriting that mess." - A senior Chelsea source, according to The Sun.
Runner-up: "Van Persie is a great player. He is a complete player and would be useful to any team. But he still has one year left in his contract with Arsenal. We will try to put the icing on the cake this summer but the important thing is that the mix is good." - Juventus general director Giuseppe Marotta.
Atleti: Europa League Winners
Prolific Falcao batters the Basque Euro dream (Pete Jenson, Independent) It was meant to be a fairytale first European trophy for the last team in Europe who still draw all their players from their own region, but instead it was decided by a €40m (£35m) striker whose ownership is clouded by the vagaries of third-party investment funds. Radamel Falcao has now scored 30 goals in his last 29 Europa League games. He got the winner in the final last year for Porto, and last night in Bucharest's National Stadium he delivered the first-half brace that saw Atletico Madrid win a second Europa League trophy in three years.
Radamel Falcao's Atlético Madrid rout Athletic Bilbao (Jonathan Wilson, Guardian) Marcelo Bielsa paced, he squatted, he sat down, he shouted, he looked on pensively, but whatever he did his Athletic side rarely threatened to make an impression on an Atlético Madrid team coached by one of his former players, Diego Simeone. Whatever Athletic have brought to theEuropa League this season – which is a lot – however much the neutral might have wanted another of their displays of relentless attacking, tonight they were well-beaten.
Eye On The Euros
Why Andy Carroll should be in Roy Hodgson's England squad (Paul Wilson, Guardian) You can stop that sniggering now, because the answer is probably yes. England are that desperate. Wayne Rooney is banned for the first two games, Darren Bent has missed the past two months through injury. Jermain Defoe has become a bit player at Spurs, and while Peter Crouch is getting regular football at Stoke he has not exactly made an unanswerable case for himself with his form or his goals. If it came down to a choice between Crouch and Carroll, who would you choose? Crouch might have the edge in international experience, but Carroll is younger, more direct, and on his day – just ask Chelsea – capable of terrorising defenders. Still not convinced? Nor am I, actually. How old is Grant Holt again?
Ferdinand and Terry should get on with it if they are professionals (James Lawton, Indepenedent) When you think about it for a second, this question of whether Ferdinand will deign to play with Terry is an absurdity. It is an unwelcome throwback to the days of the alleged Golden Generation, when David Beckham once summoned Eriksson from his dinner table to deal with talk of player insurrection over that Ferdinand affair.
England's John Terry is too tired for Euro 2012 – yet so are the alternatives (Jim White, Telegraph) After watching Tuesday night's match at Anfield, at least Roy Hodgson's first conundrum as England manager appeared to be resolved: he surely now knows what to do about John Terry.
Buying The Premier League
Manchester City's £930 million spending spree to turn club into Premier League title contenders (Telegraph) Barring any slip up against Queens Park Rangers this weekend, Mansour will have a Premier League trophy to show for his investment, but it will have come at a 10-figure cost.
The Final Day of the EPL
Premier League final Sunday: 10 matches, 10 issues on the last day (John Ashdown, Guardian) From the title to top scorer via some wanted and unwanted farewells, there's a lot going on this Sunday.
Black Clouds Over Blackburn
Steve Kean confident Blackburn will avoid sharing Portsmouth's fate (Guardian) Steve Kean has denied that Blackburn Rovers will become another Portsmouth and drop rapidly from the Premier League into League One, and insisted he and Venky's, the owners, are at the club for the long term.
Kean's wife dragged into mounting chaos at Rovers (Independent) Steve Kean was forced to defend the relationship between his wife Margaret and Venky's owner Anuradha Desai on another extraordinary day in Blackburn Rovers' disastrous season.
Robbo's Rovers poser (Sun) Paul Robinson is considering his future at relegated Blackburn — and West Ham will lead the fight for his signature.
Reviews of the 2011/12 Season
Jamie Redknapp's team of the season: A fine Kompany… packed with pace and power (Mail) It's Kompany alongside Coloccini for me at the heart of the defence, two excellent foreign defenders, flanked by two English full backs, Walker and Baines. My line-up is beginning to take shape.
Premier League 2011-12: The top 10 games of the season (Mail)
Revealed: the financial health of the Premier League laid bare (Telegraph)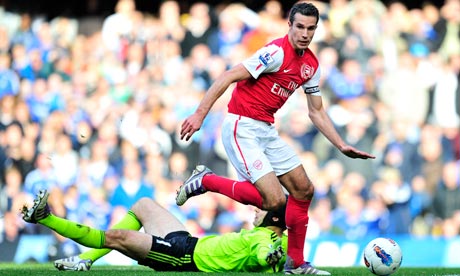 Transfer Lies
Juve not for me, says Van Persie as striker hints at Arsenal stay (Mail) Robin van Persie has given the clearest hint yet that he is ready to stay at  Arsenal after indicating it would take an 'extraordinary' offer to make him leave.
Arsenal confident of deflecting Juventus interest in Robin van Persie (Guardian) Van Persie, who has 30 Premier League goals this term, is not thought to be keen on moving to Italy, with his instinct to remain at Arsenal for at least one more season, encouraged as he has been by the signing of Lukas Podolski from Köln for £10.9m, with the promise of further ambitious transfers to come. Only the tantalising offer of a potential move to either Real or Barça would test that commitment though, even then, the London club would need to sanction any departure given the player remains under contract.
Bayern to rival Arsenal for Hoilett signature as race for starlet hots up (Mail) Blackburn winger Junior Hoilett is being targeted by Bayern Munich and Borussia Monchengladbach. The 21-year-old Canada international is out of contract and has attention from Arsenal, Tottenham, Stoke, Everton and Sunderland.
Drogba ditched: Chelsea to risk fans' wrath and let talisman leave (Mirror) The 34-year-old's demands for a new two-year deal have fallen on deaf ears,as the Stamford Bridge hierarchy are determined to build the team around fellow forward Fernando Torres.
Buy Baines: United owners give Fergie green-light to raid Everton (Mirror) Manchester United will step up their efforts to sign Leighton Baines with a £10million offer.
Clear-out! Mancini will bin EIGHT of City's (probable) title winners (Mirror) De Jong, Dzeko and Johnson among those set to be moved on as Blues boss plots domestic dominance and a challenge for the European Cup.
Poyet in demand as Villa, West Brom and Wolves eye move for Brighton manager (Mail)