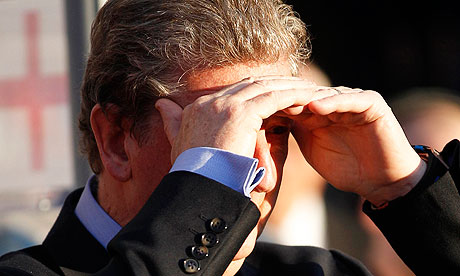 Comment & analysis round-up
Quote of the day: "I am looking beyond the Euros. The fact is, I have my sights fixed firmly on the future. I signed a contract to do this job over the coming years. I also want to do well in the Euros. But I'm not prepared to make the Euros the be all and end all in terms of the way I want to play. The way forward is going to be with two strikers. We all know Rooney is best in that No 10 position." – Roy Hodgson.
Runner-up: "Stay at home, watch it on TV. Don't even risk it … because you could end up coming back in a coffin. I think they were wrong (to award Euro 2012 to Poland and Ukraine), because what they should say is that if you want this tournament you sort your problems out. Until we see that you have sorted it out, you are never going to get the tournament. You do not deserve these prestigious tournaments in your country." – Sol Campbell.
England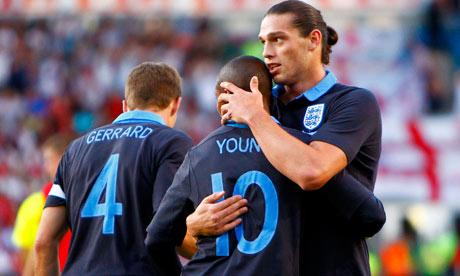 Let's hope Roy's Euro vision is better than Engelbert's (Shaun Custis, Sun) "What to do in midfield may be Hodgson's biggest conundrum. Skipper Steven Gerrard was not at his best and one lunging challenge on Tom Hogli took the Norway defender out of the game. But the big question, as has often been the case, is who will partner Gerrard in central midfield. Should England go with a conventional holding player in Scott Parker or try to solve that age-old problem of whether Frank Lampard and Gerrard can operate together?"
Gerrard must regain control for Hodgson to limit damage (James Lawton, Independent) "The problem is that this England, unlike the one that thumped another poor Norwegian team 6-1 on their way to World Cup victory 46 years ago, simply doesn't have enough vaguely world-class players or leaders – and this is not likely to change sufficiently when the heroes of Chelsea roll up and Wayne Rooney has served his two-game suspension. Hodgson, after all, has been clear enough that Steven Gerrard is in his mind the outstanding candidate for the captaincy after the stripping of John Terry and his own decision to leave Rio Ferdinand at home. It is a call that may be redeemed in the coming weeks because no one can dispute the inspirational qualities Gerrard can find when he hits his best vein of form. Disappointingly, this didn't happen when he filled in for Terry and Ferdinand in the World Cup two years ago – and certainly it didn't in Oslo on Saturday night."
Rooney remains key to Roy as Hodgson plans England's future around No 10 (Matt Lawton, Daily Mail)
Lampard facing bench as Hodgson hints at Parker-Gerrard combo (Martin Lipton, Daily Mirror)
Why Roy Hodgson's England midfield didn't work against Norway (David Pleat, Guardian)
England's misfit midfield is great unanswered question for Roy Hodgson (Richard Williams, Guardian)
England manager Roy Hodgson knows the modern game, but does he have the players to deliver the goods? (Paul Hayward, Daily Telegraph)
Barry agony, He faces Euro 2012 KO (Sun)
Roberto Martinez to announce his future on Tuesday
Don't leave me! Wigan chief Whelan ready to spend big on new deal to keep Martinez (Daily Mirror)
Rodgers back in the running as Liverpool arrange talks (Ian Herbert, Independent)
Changes in grassroots football
Vote today… and say NO to big goals and long balls (Martin Samuel, Daily Mail) "This afternoon in the Royal Suite at Wembley Stadium, a meeting will take place that could shape the future of English football. Forget, for the moment, Saturday's friendly with Belgium. This is not about preparing for one tournament, but 20. Get this call right and a new, progressive chapter for the national game can begin; get it wrong and much of what the Football Association hopes to achieve at its St George's Park facility in Burton may be undermined. From 2pm, the Annual General Meeting of FA shareholders will consider the most radical overhaul of youth football ever proposed in this country. It has been a long time coming, and this is the final hurdle."
More match fixing in Italy
Lazio's Stefano Mauri arrested and Italy defender Domenico Criscito targetted by police over match-fixing claims (Daily Telegraph)