Rafa Benitez linked with Chelsea as AVB heads to pivotal match at Napoli
Tuesday, February 21st, 2012
Comment & analysis round-up
Quote of the day: "My job is for this year and the next two years and I have the full confidence of the owner. I know these words would be more valuable coming from the top. I cannot keep saying them. But as the voice of the club I will continue to perpetuate this message as this is what we believe in. From 2004 up to now has been the richest part of Chelsea's history for trophies and success. But if you want to perpetuate that success into the future, you have to make changes. I can understand the speculation about my future. But we have a three-year project to change not only the team but also the culture and structure of the club." – Andre Villas-Boas.
Runner-up: "If my health stays good, I don't think another two or three years will harm me. I think you need stamina in this job. And I have been blessed with good stamina. I think that has a lot to do with the kind of food I ate as a young person. In my house there were always broths, chicken soups and wholesome meat. We ate very little canned or processed food and always had fresh vegetables… The fact you have been so successful means you don't want a period when you are not successful. You want to go out on a winning note and, hopefully, we can do that… No. We have never discussed it. It is a dangerous game. At this moment there are maybe half a dozen managers doing very well in the Premier League. All the others are fighting for their lives. Some are doing great jobs with the resources they have — like David Moyes. But will that be the same, say, in two years' time when I am ready to quit? Some may have lost their job by then." – Sir Alex Ferguson.
Today's top stories
The pressure is on AVB ahead of Napoli clash
Defiant AVB: this game will not define my career (Sam Wallace, Independent)
André Villas-Boas eyes long-term plan as Chelsea get set for firefight (Daniel Taylor, Guardian)
Jose said the Chelsea job came too early for Villas-Boas… maybe he was right (Ian Wright, Sun)
Benitez in frame to replace AVB if Chelsea's stock continues to plummet (Ian Ladyman, Daily Mail)
Is Villas-Boas the man for a decade or just a £30m write-off? (Martin Samuel, Daily Mail)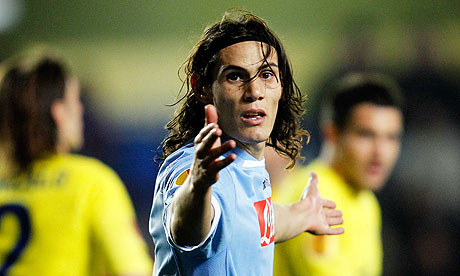 Chelsea will feel heat of lion's den at Napoli (Gianfranco Zola, Daily Mail)
Why Naples will be the defining game of AVB's Chelsea reign… for good or bad (Martin Lipton, Daily Mirror)
Chelsea beware – Edinson Cavani has faith in Napoli's success (Marcus Christenson, Guardian)
Defensive resolve can stop triple threat of Ezequiel Lavezzi, Edinson Cavani and Marek Hamsik (Alan Smith, Daily Telegraph)
Arsenal crisis
Arsenal desperate to hold talks with Van Persie over whopping new deal (Daily Mail)
Arsenal won't sell RVP in the summer – even if he doesn't sign a new deal (John Cross, Daily Mirror)
Angry Arsenal fans quiz board on lack of spending (Jack Pitt-Brooke, Independent)
Arsenal don't like pressure and they struggle to break down tight defences. Tactically, it begs the question: what are they good at? (Michael Cox, The Guardian)
Manchester United
Manchester United players seek assurance that Sir Alex Ferguson is staying before signing new deals (Chris Bascombe, Daily Telegraph)
Elsewhere in the Champions League…
Real's resurgence puts Mourinho in control (Pete Jenson, Independent) 
Gus Poyet for Wolves?
Wolves make Poyet approach (John Cross, Daily Mirror)
Wolves eye Reading manager Brian McDermott for Molineux vacancy (Press Association via The Guardian)
European & world round-up
The Guardian feature Sid Lowe on Malaga and Paolo Bandini on Inter Milan.
We also learn in The Guardian that an Iranian side has pulled out of a Partizan Belgrade game because of Avram Grant.
Gossip
Ba can go for £7m – and he'll get half  (Steve Brenner, The Sun)