Neymar denies Barca pre-contract, Manchesters United-City lauded, rescind Kompany's red & Chelsea's £8.5m Aspas bid
Updated: January 14, 2013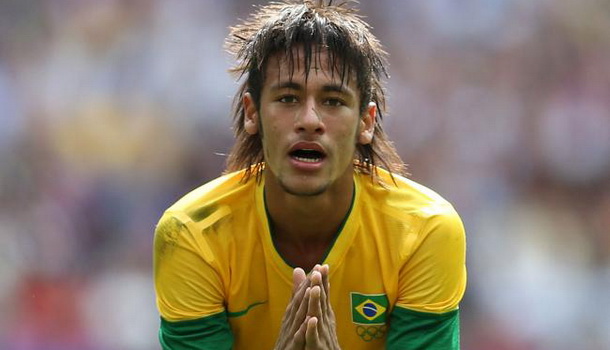 Comment & analysis round-up
Quote of the day: "I have no agreement with Barcelona or anyone else. The only thing I have signed is with Santos, and I'm happy. They're a big club with whom I'm under contract until 2014. The most important thing is to be happy, and I'm with my family. My objective is to help Santos and Brazil, and the best will come with hard work." – Neymar.
Runner-up: "I don't care about what Chelsea are doing at the moment. I'm thinking only of myself and West Brom. I'll hopefully stay here for the next two years. The next couple of years will be good for me at West Brom. It's very important for me to play. We've a good squad, a manager who is very good, we've top players and hopefully, if I continue like this, I'll get more regular football. It's more beneficial to stay here than go back to Chelsea. We've not spoken yet but, hopefully after the January window, we'll start talking about that." – Romelu Lukaku.
Man United 2 – Liverpool 1
Robbing Van Persie! Welbeck takes the plaudits but Dutchman's real hero for Ferguson (Martin Samuel, Mail) It is a measure of Van Persie's achievements this season that, having pretty much won the game for United, the man-of-the-match spoils, on television and in the mind of manager Sir Alex Ferguson, went to his partner, Danny Welbeck. They are so used to lauding Van Persie around these parts that he needs to be almost superhuman to get the recognition these days: scoring one and making the other in a 2-1 win over bitter rivals? Close but no cigar. Had that backheeled goal-of-the-season contender gone in, maybe the judges would have softened on the value of RVP's contribution.
New dawn fades for limp Liverpool before Sturridge rekindles some self-belief (James Lawton, Independent) When Brendan Rodgers remembered that he was in charge of a self-proclaimed football revolution, Liverpool began to look like a team of half-serious ambition. This development came when Daniel Sturridge was sent on at the start of the second half, by which time United really should have been in cruise control.
Obliging Liverpool leave United's Michael Carrick to rule the roost (Daniel Taylor, Guardian) Michael Carrick, meanwhile, played with the kind of refinement that must have reminded the watching Roy Hodgson that surely he should have tried to get him back into the England team before, rather than after, Euro 2012. The number-crunchers at Opta say the Premier League is 20% faster than five years ago. It's fast, frenetic and doesn't let up, and it takes a special player to see the right pass at this level and have the ability, almost every time, to play it with the perfect weight. Carrick, so long an elegant frustration, has taken a long time getting to the stage where he is controlling matches from his position in midfield but what a damning indictment it is of English football that someone of this calibre has started only 16 England games in 12 years.
Webb and Co had a good game… but we need replays to help on offside goals (Graham Poll, Mail) I was completely unaware that Vidic was in an offside position when Evra's header was diverted into the goal for what proved to be the winning goal. So was assistant Darren Cann, who may well have not seen the ball strike Vidic, and even if he did  I am not surprised as I didn't notice the offence until reviewing replays? Perhaps it all re-enforces the view that replays should be looked at after all goals – just to ensure they are valid.
Gap year: Brendan Rodgers finds Liverpool 24 points adrift of Manchester United (Mirror) The Premier League table makes for grim reading for Liverpool fans this morning, with their team 24 points behind arch rivals Manchester United. That's almost a point for every year the Merseysiders have gone without winning the title, their last championship success coming 23 years ago, way back in 1990.
Nemanja Vidic and Ashley Young's injuries mar Manchester United win (Guardian) Sir Alex Ferguson's delight at Manchester United's 2-1 win over Liverpool was tempered by injury concerns about his captain, Nemanja Vidic, and Ashley Young, who left the ground on crutches. For Wednesday's FA Cup third-round replay visit of West Ham, the United manager could also be without Jonny Evans, who suffered a hamstring problem on Saturday.
Arsenal 0 – Man City 2
Cheap, timid, dodgy (Sun) Arsene Wenger was brutally honest: Arsenal were timid, gave away cheap goals and had a dodgy start. Sums it up really.
Arsenal atmosfear: Arsene Wenger must act fast to dispel Emirates anxiety (Ollie Holt, Mirror) This is where ­Arsenal's situation becomes difficult to grasp. The team needs strengthening, the funds are supposed to be there but Wenger doesn't spend. Why? Is the promise of money for transfers a mirage? Is Wenger so stubborn that he cannot see the need for reinforcements? It is hard to disentangle. What is clear is that Wenger is now locked in the toughest battle to qualify for the Champions League since he arrived at the club.
City's backs are up against the wall but they won't give up without a fight (Steven Howard, Sun) The 37-year itch is over with Manchester City winning their first league match at Arsenal since 1975. But far more important to Roberto Mancini than the 2-0 scoreline is the fact the title race is still open. Manchester United may be seven points clear at the top but Mancini would have more than settled for that before kick-off.
Dogged Manchester City show Arsenal what a good side looks like (Sam Wallace, Independent) This was a snapshot of the modern Arsenal. Incompetent in defence, resolute when the chance of victory had already passed them by and ultimately too lightweight to get a victory against one of the big boys of the Premier League.
Doubting Thomas (Jamie Redknapp, Mail) It's a shame what has happened to Thomas Vermaelen. He has been one of my favourite Premier League central defenders. But he is not the same player and I wonder if there is a loss of confidence after his spell at left back, as well as the weight of the Arsenal captaincy as they go through this period of transition. I hope he is back to his best soon.
Exodus felt like a fire drill at Arsenal… but there's no spark in this team (Neil Ashton, Mail) City were worth every penny as they ripped Arsenal apart. By the time referee Mike Dean blew the final whistle, City's fans had this soulless stadium all to themselves… This stadium has seen enough and so have the supporters who pay the highest ticket prices in English football. The fans' frustration with Arsene Wenger is palpable, but they are afraid to say it out loud after three Premier League titles, four FA Cups and the 2006 Champions League final.
Wilshere the only general in Wenger's rag-tag army as City shrug off pressure (Kevin Gardside, Independent) There was one screaming ray of light for Arsenal, and that was once again in the performance of Jack Wilshere. He must have Spanish ancestry. Wilshere recycles possession with the same efficiency as Silva and turns in circles just as small. However great a problem the lack of communal self-belief is at Arsenal, it does not extend to this chap.
David Silva service comes on a plate and gift-wrapped by Arsenal (Michael Cox, Guardian) Laurent Koscielny's early sending-off might have spoiled the game as a spectacle but it played perfectly into the hands of Manchester City and, in particular, David Silva. Few midfielders in Europe exploit space as effectively as the Spaniard – the fewer the players involved, the more space on the pitch, the more he was likely to thrive.
Injury added to insult with Arteta calf strain ramping up Arsenal woe (Mail) In the wake of Arsenal's 2-0 defeat at home against Manchester City Arsene Wenger has confirmed Mikel Arteta is set to miss the next three weeks after suffering a calf strain.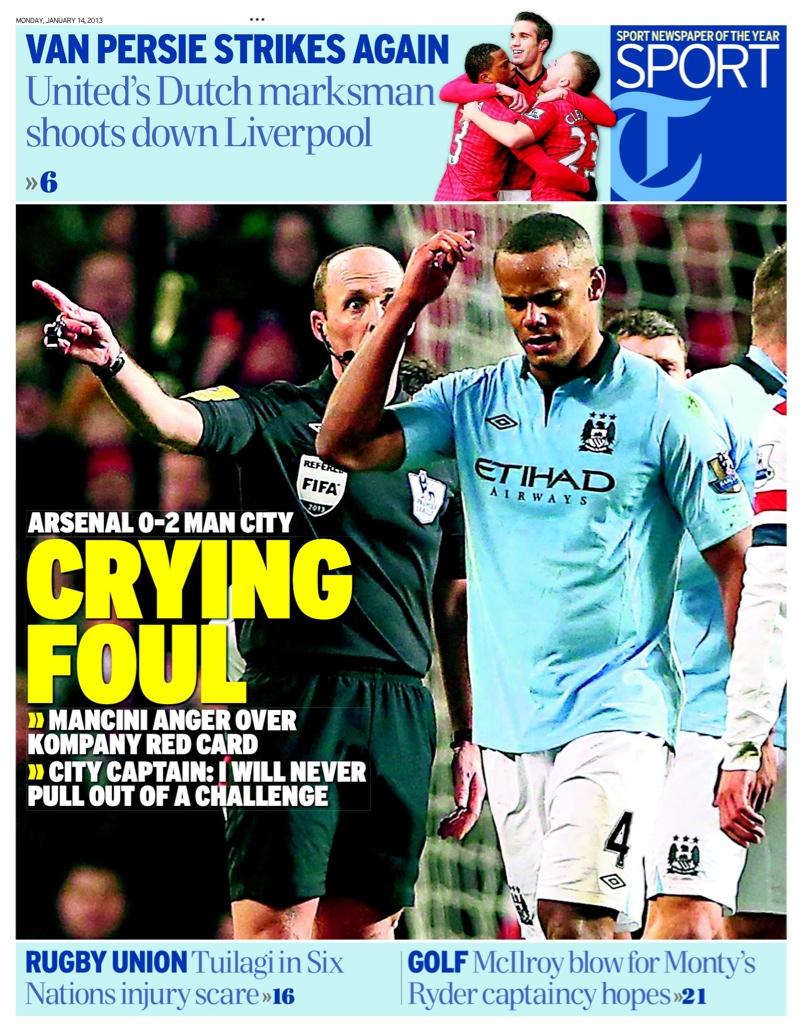 Bad Kompany: The Death Of Tackling
Manchester City defender Vincent Kompany's red card must be overturned or the day of the tackle will be dead (Alan Hansen, Telegraph) If Manchester City fail to get Vincent Kompany's red card against Arsenal rescinded by the Football Association on Monday morning, it will send out the message that tackling has gone forever. In my opinion, there is absolutely no doubt that, not only did Kompany win the ball, it was just about the perfect tackle. So I will be flabbergasted and astonished if referee Mike Dean decides to stand by his decision to dismiss the Manchester City captain following Kompany's challenge on Jack Wilshere.
Death of the tackle? FA verdict on Vincent Kompany red card could kill it off for good (Mark Lawrenson, Mirror) When I played we wouldn't have batted an eyelid at that challenge. But people who have started watching football within the last five to ten years will have looked at that tackle and gone: 'Its a straight red innit! He lunged in.' Kompany is one of those really honest players in the Premier League and I'm not surprised that Manchester City are appealing. But he could be now forgiven for thinking: 'What's the point of trying to win the ball? What's the point of tackling? Maybe I should just always stay on my feet?' And that would be a great shame but that's what Michel Platini and UEFA all want. I think Platini actually wants tackling outlawed.
Football Finances
Arsenal's big idea to hand the title to Manchester United and cream off the profits in a plot which could destroy English football (Martin Samuel, Mail) If clubs like United and Arsenal, with the biggest grounds and revenue streams, can limit spending to  percentage of turnover, they will always have the biggest transfer pot and therefore the greatest chance  of success. That is why owner  investment terrifies them… This is about exclusion, not fairness, and the established elite do not like the idea of another Sheik Mansour coming along. They don't like Roman Abramovich buying the best players, either. And, if they can rope in enough dopes who see the plan simply as a way of saving money and cutting expenditure, this naked self-interest may carry the day. So far, only Chelsea, Manchester City, Fulham, West Bromwich Albion and Aston Villa are against it and 14 votes are needed to alter the rulebook.
The FA's 150th Birthday
Happy birthday FA… you're not perfect but we need you now as much as ever (Sam Wallace, Independent) The FA is judged largely on the success, or otherwise, of the England team. It is typical of many of the conflicts at the heart of English football that the FA cops it for every failing at a major international tournament despite having no direct input into the development of elite young footballers on a day-to-day basis (the clubs claimed that privilege years ago). International football itself is under attack from the elite European clubs who are seeking to control and curtail the involvement of their players. On top of that, the credibility of international football is not helped by some of the shambolic dealings in the last decade of Fifa, the ultimate power, to which the FA answers. Yet it is to the FA's credit that it has been one of the very few to stand up to Sepp Blatter.
Crisis Villa
Kids won't keep Villa up, Paul… (Alan Shearer, Sun)Right now, Villa are in the eye of a storm and there is no one around to help a bunch of inexperienced kids who are struggling. A back four and central midfield with an average age of just 22. Up front are Christian Benteke, 22, and Andreas Weimann, 21. It is brave and it is bold — but it is not working… Their 19 points from 22 games is the worst in their history at this stage of a season. Their minus-25 goal difference is the worst in the top flight and they have scored a Premier League-low 17 goals. Next up, West Brom away in a local derby that will have the Baggies fans licking their lips.
Managerial Merry Go Round
Laudrup wanted as boss by Bernabeu fans (Sun) If Real Madrid fans have their way Michael Laudrup could be back at the Bernabeu as boss… Madrid members were polled this weekend on the successor to Jose Mourinho, whose Real reign looks to be ending. Rafa Benitez was top choice with 21.4 per cent. Germany boss Joachim Low came second with 19.5 per cent and then, surprisingly, Laudrup on 15.6 per cent.
Sean O'Driscoll bound for Bristol City (Star) Sean O'Driscoll has rejected interest from Blackpool to take charge of Championship rivals Bristol City.
Transfer Lies
Spanish goal ace Iago Aspas heading to Chelsea (Star) Chelsea last night made an £8.5m bid for rising Spanish star Iago Aspas. The Celta Vigo forward, 25, has scored eight times in 18 games this season in La Liga after firing his club to promotion with 23 goals last term.
Loic who's coming to the Toon (Sun) Newcastle have landed Marseille striker Loic Remy for £9.25million. The France international is finalising personal terms and is expected to sign within 24 hours.
Any Ol Iron (Sun) Sam Allardyce will step up his bid to land Blackburn's Martin Olsson today. Big Sam has already tried to sign the Swede but was put off by Rovers' £7million price tag.
We Will get Hughes (Sun) Man City are keen to sign Derby's Will Hughes for £7million this month. City assistant boss David Platt watched the 17-year-old midfielder at Brighton on Saturday. Hughes is also a target for Arsenal and Spurs.
Fancy a swap? Manchester City could offer £6m plus players for Derby's Will Hughes (Mirror) Derby want around £10million for Hughes but City could offer £6m and a possible swap or two.
Fulham the latest club to try and sign defender Okore (Mail) Fulham have joined the list of clubs showing interest in Nordsjaelland defender Jores Okore. The 20-year-old Danish international has already attracted attention from Newcastle and Manchester United but all offers have fallen short of the £5m valuation.
Martin Jol's Fulham in £3m move for superteen Bernard Malanda-Adje (Mirror) Jol's spies have told him to sign the 18-year-old who plays every game for high-flying Waregem after joining them from French side Lille. Malanda-Adje is small for a defender but has been outstanding for his new club – with Jol keen to snap him up before bigger teams come for him.