Liverpool's Suarez slammed as a cheat, Arsenal plot Villa buy amid a fixture logjam, Chelsea axe Lampard & Man United to dump De Gea
Comment & analysis round-up
Quote of the day: "When you see Luis laughing as he kicks the ball across the line — he knows himself what happened. Even Stewart Downing said to us that he could not believe top officials had missed that. When it turns out to be the decisive goal, it's a sickener for everyone. I know a lot of people have called him a cheat in the past. It's a natural reaction. People sometimes put their hands up." - Mansfield keeper Alan Marriott.
Runner-up: "Walk off? No. I don't think that is the solution. But the Italian federation have yet to provide FIFA with the report detailing what exactly has happened. I don't think you can run away, because eventually you can run away if you lose a match. This issue is a very touchy subject, but I repeat there is zero tolerance of racism in the stadium; we have to go against that.  The only solution is to be very harsh with the sanctions – and the sanctions must be a deduction of points or something similar." – Sepp Blatter.
Luis Suarez: Handball Cheat? (Mansfield v Liverpool)
Luis Suárez: 'It's not his job to own up' says Brendan Rodgers (Guardian) Brendan Rodgers, the Liverpool manager, was forced into another defence of Luis Suárez after the striker's controversial goal put Liverpool into the FA Cup fourth round at the expense of Mansfield Town from the Blue Square Bet Premier. Suárez's 19th goal of the season, assisted by a clear handball, prompted the Mansfield chief executive, Carolyn Radford, to say it felt like a replay had been "stolen" from her club. Rodgers, though, defended his player. "It's not his job to own up," said the Liverpool manager.
The hand of God? No, this was a diabolical act that cast a shadow over the Cup (James Lawton, Independent) Just when it seemed that Swansea and Arsenal had taken the remnants of what we like to call the old glory of the FA Cup into some kind of safe-keeping, Luis Suarez popped up with a hand to play. He looked sheepish enough not to repeat the claim of his fellow South American Diego Maradona that it was the work of God but you didn't have to be a supporter of Mansfield to believe that he had come off the bench with diabolical intent.
Liverpool striker Luis Suárez cannot be blamed for carrying out his job and acting like any other player (Alan Hansen, Telegraph) Whatever moral high ground you take over Luis Suárez's goal, no footballer would ever ask for a goal to be disallowed. It has never happened in the history of the game. It will never happen in my lifetime. What exactly was Suárez supposed to do? Run to the referee and tell him it hit his hand? His team-mates would go berserk, and his manager would not be too impressed either.
You cheat! (Grant Hill, Sun) Laughing Luis Suarez was accused of cheating Mansfield out of the FA Cup yesterday. The controversial Liverpool striker caused a storm with his second-half winner after teeing it up with his hand. Mansfield staff felt they had been cheated and ESPN match commentator Jon Champion said: "That, I'm afraid, is the work of a cheat." Stags chairman John Radford fumed: "We should be getting a replay."
Caught Red-handed? You may think Suarez is a cheat but don't blame him for handball (even if he could have owned up) (Graham Poll, Mail) There are occasions when the officials may see a handball they do not believe to be deliberate, though penalise the offender because they have gained too great an advantage from the ball hitting the arm. The Suarez goal was just such an incident which is why I am sure referee Andre Marriner did not see the contact, rather than judge it to be accidental. Replays certainly showed his view was obscured.
Daniel Sturridge debut illustrates Liverpool's new wealth of options (Michadel Cox, Guardian) It took seven minutes for Sturridge to get off the mark, with a cool right-foot finish from a Jonjo Shelvey through-ball. Sturridge, like Arsenal's Theo Walcott, has outlined his determination to play through the middle rather than wide on the right, pointing to Thierry Henry's tactical transformation as an inspiration. This opening goal was reminiscent of the Frenchman – starting in the inside-left channel and receiving a pass that bisected the opposition centre-backs, before finishing first-time towards the far post. The calibre of opposition made it difficult to gauge how effective Sturridge will be in the Premier League but his relationship with Shelvey was unquestionably promising.
The Usual Post-Mortem: Has the FA Cup Still Got Magic?
FA Cup finals used to stop the nation, now they don't even end the season (Sean Ingle, Guardian) The Premier League is won by one of the same select group every year, has commercial deals coming out of its ears, and is predictable as a child's ABC, yet it is rarely subject to the lie-down-and-take-it flagellation that the FA Cup suffers. So for a change let's celebrate it. Treasure it. Revel in it. Sure, it's not the same tournament that lured you in as a kid – probably because the final was one of a handful of live games shown on TV that year. Those memories belong to a distant England, a country of dreamy sunshine and brilliantine. But what's left isn't so bad. Certainly sufficient tales remain; tales that continue to warm the soul on grey January days.
New trend: taking the FA Cup seriously… apart from Cardiff (Martin Keown, Mail) It was nice to see a lot of Premier League teams taking the FA Cup seriously, including the champions Manchester City. Outside the Premier League, though, Malky Mackay made 11 changes to his Cardiff side and it backfired, with Macclesfield knocking them out. Yet Cardiff might not mind. The Championship leaders have been top before, only to fade — they want promotion this time. So maybe the sacrifice of going out of the Cup is bearable.
View from the sofa: No naked butler but heroes aplenty as it goes bananas (Mail) Instant heroes; new and unusual stories. If it's not a new story, it's a good old one. In a nutshell, that's the 'magic' and the 'charm' of the FA Cup's third round. It's the novelty, the lop-sided match-ups, the possibilities, the temporary seating, the quirks of history. Often, the fixtures serve up a belter, but it's usually context over content. And on Saturday, as always seems to happen on the first weekend of January, there was no shortage of context.
Arsenal: Fixture Congestion, Buying Villa?
Wenger in fixture hell (Sun) Arsene Wenger is facing a nightmare fixture pile-up of five games in 13 days… The Gunners kick off their odyssey against Manchester City next Sunday. They entertain Swansea on January 16, then have London derbies with Chelsea and West Ham before a potential FA Cup fourth-round trip to Brighton. Swansea also have it tough, with a two-legged Capital One Cup semi-final against Chelsea as well as the Arsenal replay in the next fortnight.
Fixture build up's not ideal but it's a price worth paying for staying in the Cup (Mail) Wenger will now step up his hunt for signings this month in an attempt to take the strain off his players, with a new striker and goalkeeper at the top of his shopping list. David Villa and Adrian Lopez are among the strikers on Wenger's wishlist, while Swansea keeper Michel Vorm is also wanted by the Frenchman.
Arsene Wenger eyes David Villa to ease fixture chaos (Star) Arsene Wenger could step up his bid to sign Spain star David Villa as Arsenal find themselves facing a fixture crisis.
Chelsea: Lights Out On Lamps
Blues: No way back, Frank (Sun) Frank Lampard will not be offered a new deal by Chelsea "under any circumstances"… The star's agent Steve Kutner said last night: "Chelsea executives told Frank in Japan then again re-confirmed with his agent after the Everton victory that, in no circumstances, will he be offered a new contract to stay at Chelsea Football Club after the end of this season."
Chelsea mad to let Lamps go (Alan Shearer, Sun) I find it absolutely incredible that Chelsea should decide there is no way they will offer Frank Lampard a new contract. You have to wonder what more he could possibly have done to convince the people in power at the club that he deserves to be kept on for at least one more season. It has always been my belief that when you judge a player, you don't look at his age, you look at his level of performance. And on his performances alone this season, you would have to say any club would want to have Frank on board.
No deal! Chelsea legend Lampard told he will not be offered new contract (Mail) Although Lampard will not be allowed to leave until his contract expires at the end of the season, Manchester United and Arsenal are the two English clubs with genuine interest in signing him. Sir Alex Ferguson has made it clear to Lampard that he would sign the midfielder immediately, but it appears to be a remote possibility. Arsenal's interest is not as strong, but they have asked to be kept informed of developments. Lampard, who has spent nearly 12 years at Chelsea, has made it clear he would find it impossible to move to the Emirates to play for another London club.
Analysis: Chelsea's Attack
Demba Ba's top class, but Sturridge needs to grow up (Mark Lawrenson, Mirror) For the money that Chelsea have paid I think he is an absolute steal. I have no idea why Liverpool decided against Ba and went for Sturridge. They want to get into the Champions League this year and that is not an impossible task with the inconsistencies of the clubs up there. And when you consider the amount of money that ­Liverpool have laid out in previous transfer windows, £7million for a fella who has scored on a regular basis in the Premier League is small beer, isn't it?
Forget Torres and Ba – Mata is the key for Chelsea (Guardian) For starters Benítez likes to put out sides that play with a single striker in a 4-2-3-1 formation and that means that when it really matters he is likely to pick either Torres or Ba. More importantly, however, switching to a two-man attack would almost certainly negate the influence of Juan Mata, who once again delivered a superb display for Chelsea in a roaming role just behind the lone striker. He, far more than Torres, is Stamford Bridge's key Spanish performer and Benítez would be foolish to do anything that sidelined his influence on the team. Mata, quite literally, is central to Chelsea's chances of success.
Balon d'Or
Ballo bore (Sun) If Lionel Messi holds aloft the Ballon d'Or this evening it will be a grave injustice. For it will mean Spain will again have failed to gain the recognition they deserve for winning the last three major tournaments — and an unprecedented Treble. Sure, Messi deserves it — despite only winning the Copa Del Rey with Barcelona last year — after breaking every conceivable goalscoring record. But back in 2006 Fabio Cannavaro won the award, then known as the FIFA World Player of the Year, after lifting the World Cup with Italy — despite Ronaldinho winning the Champions League and La Liga with Barca.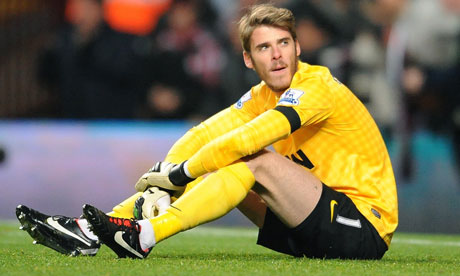 Transfer Window, Day 7
Begovic and Reina in Fergie's sights as United boss considers axing De Gea (Mail) Sir Alex Feguson is ready to call time on David De Gea's career at Old Trafford as he seeks a new goalkeeper in the January transfer window… Stoke's Asmir Begovic and Liverpool's Pepe Reina are two options the club are considering – and both are eligible to play in the Champions League.
Fergie's ready to dump dodgy David de Gea and buy new keeper (Mirror) Sir Alex Ferguson is ready to ditch David de Gea – and buy a keeper in the transfer window.
Harry looking for a slice of good Loic (Sun) QPR boss Harry Redknapp flew to Marseille yesterday to start talks over an £8million move for striker Loic Remy.
Redknapp on French crusade with approaches for Remy and M'Vila (Mail) QPR manager Harry Redknapp has stepped up his interest in Loic Remy from Marseille after watching their French Cup tie with Guingamp yesterday… The R's French revolution has also seen them offer £6.5m for Rennes midfielder Yann M'Vila.
Chelsea plan summer move to beat Man City to Malaga midfielder Isco (Mail) It was discovered that Malaga are seeking to extend the 20-year-old's current deal at Estadio La Rosaleda, which would likely raise his release fee to in excess of £30million.
Jermaine is a mobile winger (Sun) Jermaine McGlashan is hoping to show Everton he is a different type of mobile winger to the one who played in the Combined Counties League four years ago.
Holtby could arrive at Spurs early in £1.6m January swoop as Schalke look to dump him (Mail) Schalke have opened the way for Tottenham to sign Lewis Holtby this month, rather than at the end of the season, for a cut-price £1.6million. The Schalke midfielder confirmed on Friday that he has chosen Tottenham and will join them when his contract runs out in the summer. But the move could be brought forward after Schalke admitted they were ready to discuss selling him now.
Liverpool likely to miss out on £12m Astori with Southampton set to swoop (Mail) Liverpool have made an offer of £7million for Italy international Davide Astori but are likely to miss out to Southampton.
Hull to snap up £2m Manchester United starlet Robbie Brady (Star) Hull are closing in on £2m Manchester United winger Robbie Brady.
Arsenal back for £6m Jack Butland (Star) Arsenal have revived their interest in Jack Butland. Birmingham are bracing themselves for bids from the Gunners, Fulham and Southampton after all three clubs checked out Butland's situation.