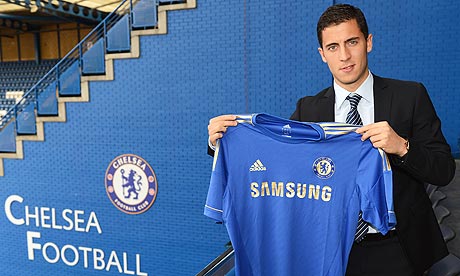 Comment & analysis round-up
Quote of the day: "I've always wanted to play in  England, there was a struggle between Chelsea and United, but to me  Chelsea have the best project." – Eden Hazard.
Runner-up: "There are three types of supporters at every club. Number one is those who, no matter who the manager is, they love their club and will love their manager whoever it is. Here, Liverpool is their life and their passion, and that is who they are. The second group is those supporters who will accept you but to earn their real respect you will have to be successful – and that's fine by me. The third group are the critics, and you never change them. Ever. If you win 4-0 it should have been five, if you win the league you should have won three. But I will never worry about that group, because you can never affect them. If you do a good job you are proving them right, but they can't be proved wrong so they will kill you even more." – Brendan Rodgers.
The Rio Ferdinand furore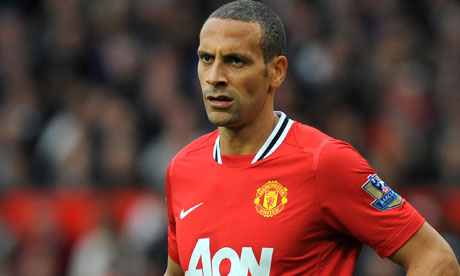 Rio Ferdinand tells friends England snub is 'morally very suspect' (David Hytner, Guardian) "Roy Hodgson was under mounting pressure to justify the omission of Rio Ferdinand from his England squad after the Manchester United central defender told friends he considered the decision to be "morally very suspect" and fears increased about its capacity to unsettle the team ahead of Euro 2012. Hodgson intensified the furore over Ferdinand's original exclusion when he called up the Liverpool full-back Martin Kelly to replace the centre-half Gary Cahill, who fractured his jaw in the friendly win against Belgium at Wembley on Saturday. The manager has apparently not telephoned Ferdinand to explain why he has continued to overlook him and no one from the Football Association has been in contact, either, or would comment on the situation on Monday."
Rio bravo: Hodgson tells Ferdinand he has an England future (John Cross, Daily Mirror)
Come clean on Rio, Roy! Why the experienced Ferdinand's exclusion is wrong for football reasons (Ian Ladyman, Daily Mail)
Why Ferdinand's exclusion from England's squad is wrong for moral reasons (Jason Roberts, Daily Mail)
England are the best in Europe – but only when it comes to controversy (James Lawton, Independent)
Roy Hodgson's reputation on line as debate over Rio Ferdinand's England omission rages on (Jeremy Wilson, Daily Telegraph) "Roy Hodgson, the England manager, was accused of "insulting people's intelligence" as the backlash escalated over his insistence that Rio Ferdinand was excluded from England's Euro 2012 squad for purely football reasons. The Ferdinand camp no longer regard that explanation as credible following Hodgson's decision to call up Liverpool rookie Martin Kelly and it appears significant that the Manchester United defender has already received messages of support from several players within the England squad."
England
Hodgson 1, Sponsors 0 as players told to rest (Sam Wallace, Independent) "Roy Hodgson has cracked down on his England players' sponsor appearances, telling five of his squad to cancel a proposed Nike event in London yesterday in order to rest ahead of the squad's trip to Poland tomorrow for their Euro 2012 base camp. James Milner, Jordan Henderson, Joleon Lescott, Theo Walcott and Alex Oxlade-Chamberlain had all been scheduled to make an appearance in Shoreditch, east London, on behalf of their boot sponsor Nike. They were told by Hodgson before they dispersed after Saturday's win over Belgium that they should tell Nike they could not attend."
England defender Ashley Cole is a national treasure who would easily grace a World XI (Henry Winter, Daily Telegraph) 
Even Wayne Rooney's spot is up for grabs, says Theo Walcott (Kevin McCarra, Guardian)
Joey Barton bailed
Barton bailed after arrest on suspicion of affray over alleged 5.30am fight outside Liverpool nightclub (Sami Mokbel, Daily Mail) "Joey Barton was released by the police after being arrested for his alleged role in a brawl outside a Liverpool nightclub. The 29-year-old Queens Park Rangers midfielder was involved in a violent altercation with two men outside Garlands in Liverpool city centre as dawn broke on Monday morning. Merseyside Police confirmed Barton had been arrested on suspicion of affray for his role in the incident and was released after questioning. Sportsmail understands QPR officials were unaware of Barton's arrest until late on Monday night."
Eden Hazard unveiled at Chelsea
Eden Hazard chooses Chelsea for chance of a regular first-team place (David Hytner, Guardian)
Hazard: Roman and I are on same wavelength (Antony Kastrinakis, Sun)
Gossip
Liverpool to battle United and Arsenal for Crewe starlet Powell (Daily Mirror)
Arsenal are in talks with Argentine midfielder Lucas Biglia — but face stiff competition from Real Madrid. (Sun)