Comment & analysis round-up
Quote of the day: "I'm signing for the champion's league winner." – Eden Hazard announces his move to Chelsea on Twitter.
Runner-up: "I had a conversation with the owner of Chelsea and he trusts me. His confidence is total and that is what I needed to keep fighting and continue to be essential for the team. I can't stop the debate. I think all of us are here on merit. I come with the FA Cup and the Champions League. I think the end of the season was not bad." – Fernando Torres.
Eden Hazard signs for Chelsea
I'm Eden to Chelsea! Blues beat City and United in race to sign £32m Hazard (Neil Ashton & John Edwards, Daily Mail) "The deal is a clear indication that the west Londoners will challenge the might of the Manchester clubs, especially newly-crowned champions City and their Abu Dhabi owners. Hazard, 21, is with the Belgium squad preparing for Saturday's friendly against England at Wembley. City pulled out of the deal for Hazard last week because of his incredible salary demands, which are close to £200,000 a week, and his agent John Bico's demands for £6m."
Hazard warning: Why Chelsea could regret landing swaggering prima donna Eden (Martin Lipton, Daily Mirror)
Chelsea also chasing Hulk (David Hytner, Guardian) "Abramovich wants to build on the success of winning the Champions League and FA Cup with a squad capable of playing the attractive football he craves. His other marque target is Hulk, the Porto and Brazil striker. Hulk has a €100m buy-out clause in his contract but he could more reasonably be expected to cost in the region of £30m. He can play as a right-sided attacker and, as such, would work alongside Fernando Torres in the Chelsea team rather than replace him."
Martinez for Liverpool?
Rob Kop chop (Ross Gregory, Sun) "Dave Whelan will today announce Roberto Martinez is STAYING on as Wigan manager. And that has opened the door for Swansea's Brendan Rodgers to become Liverpool's next boss. Martinez was hot favourite to replace Kenny Dalglish at Anfield and met Kop owner John W Henry last week for talks. But Latics owner Whelan has pulled off a sensational coup in talking the Spaniard into remaining at the DW Stadium, with the promise of a huge cash injection."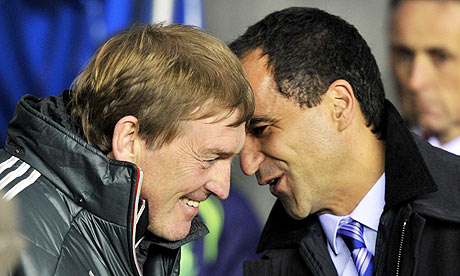 Decision time: Liverpool owners fly in to seal new manager as Whelan sets Martinez deadline (Dominic King, Daily Mail) "Liverpool's owners are set to fly into Merseyside to oversee their search for a new manager as Dave Whelan set a Thursday deadline for Roberto Martinez's future to be decided. The painstaking process of finding Kenny Dalglish's replacement has dragged on for almost two weeks but, as yet, Fenway Sports Group have not reached a definitive decision. Principal owner John W Henry held talks with Wigan boss Martinez in Miami last Thursday and, Liverpool also want to talk to Swansea's Brendan Rodgers, who was in America at the weekend to see Wales' game against Mexico."
Wigan chairman Dave Whelan gives his manager Roberto Martinez ultimatum over Liverpool deal (Luke Edwards, Daily Telegraph)
Clueless! Liverpool don't know who they want as boss claims Whelan (David Anderson, Daily Mirror)
Gossip
Mum tells RVP to stay (Sun)
Mourinho in the hunt for Drogba as striker wavers over China move (Simon King, Daily Mail)
Wenger trailing £28m Athletic  Bilbao striker Llorente (Daily Mail)
England
Roy Hodgson and Football Association want England to win hearts and minds as well as matches (Henry Winter, Daily Telegraph) "Bolstered by Wayne Rooney and the Chelsea quartet, England gather on Tuesday at the Grove, where they will be informed by Roy Hodgson that their forthcoming mission in Poland and Ukraine is primarily to win matches but also to win local hearts and minds along the way. Hodgson and the Football Association want England to be 'good tourists'."
Alex Oxlade-Chamberlain is offered gift of free expression by England (Dom Fifield, Guardian)
Carroll can be England's hero (Ian Wright, Sun)
Hodgson calls on Jagielka as Barry is forced to withdraw (Sam Wallace, Independent)
Scandal in Italy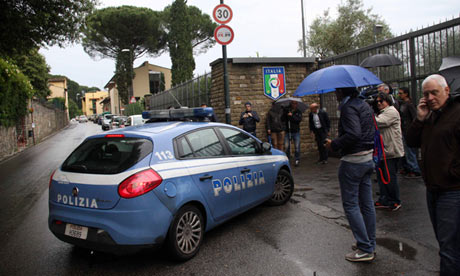 Latest Italian match-fixing scandal met with both fury and weary resignation (James Richardson, Guardian) "With a major international football tournament on the horizon Italy has once again been seized by a huge investigation into match-fixing. As yet it has not reached the magnitude of the 2006 Calciopoli affair, which left a shadow over Italy's World Cup triumph, but after police raided both the quarters of the national team and the home of Antonio Conte, manager of the Italian champions, Juventus, it's set to make as least as big a splash."
Italy squad in crisis as fixing rears head again (Robin Scott-Elliot, Independent)
Super Mario Balotelli
Mario Balotelli followed me home, talked footie on our sofa…then badgered me for a date (Emma Foster, Sun)