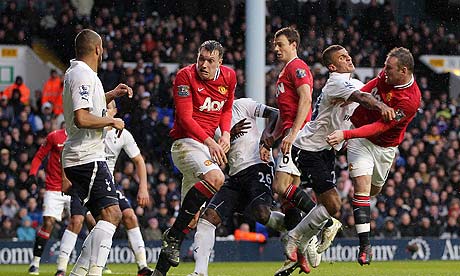 Comment & analysis round-up
Quote of the day: "It was an entirely unbelievable result. In the first half we were never at the races. We got our tactics wrong and had a bit of luck – and it was unfair on Tottenham. Rooney's goal, right on half-time was a killer for them because they would have been wondering how they were 1-0 down. But we showed our ­determination to get the result and defended ­fantastically well. We had a bit of luck but to get a result like that was first-class." – Sir Alex Ferguson.
Runner-up: "At the first look, it appears impossible. But you have to have a real go and play with belief and think you can do it. We want to make the impossible possible – that is basically our target. You never know in the game. We have nothing to lose, but you know as well that for us to find the right balance between having to go completely forward and not to concede a goal is the difficulty for us. Maybe I will change individuals in the team and go for it and see if we can put them under pressure and try to score goals." – Arsene Wenger on facing AC Milan in the Champions League.
Today's top stories
AVB out at Chelsea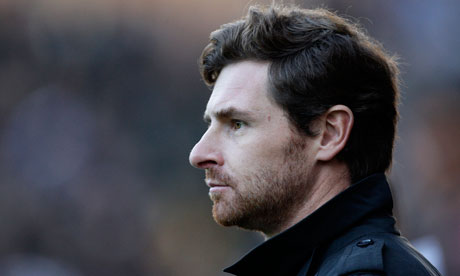 AVB: The End! Chelsea sack another boss… BUT Abramovich blames the players (Neil Ashton, Daily Mail) "At 1.15pm on Sunday, Roman Abramovich called together the dressing-room dissenters and blamed them directly for the dismissal of Andre Villas-Boas. Chelsea's owner had reluctantly fired his Portuguese 'project' after an emergency two-hour board meeting that ended at noon. Villas-Boas was told he was sacked after 27 League games and replaced temporarily by his assistant, Roberto di Matteo. Abramovich personally told the players they were responsible for his demise and warned them there will be 'massive changes' at Chelsea in the summer. Villas-Boas was so consumed — some believe obsessed — with the job, he had even slept at the training ground in a Japanese-style pod on Saturday evening."
Chelsea's £50m mistake (That's not you Torres) (Mark Irwin, The Sun)
When it comes to their managers, Chelsea don't do trust…or patience (Ollie Holt, Daily Mirror)
Why AVB's Chelsea reign was a masterclass in how not to do it (Martin Lipton, Daily Mirror)
Stone me, it couldn't get any worse at Chelsea (Martin Samuel, Daily Mail)
Result just in – Chelsea Players 1 Villas-Boas 0 (Matt Lawton, Daily Mail)
Another toy thrown from the playpen (James Lawton, Independent)
André Villas-Boas's callowness was no match for Chelsea's veterans (Richard Williams, Guardian)
… who next for the Blues? 
Chelsea sack Andre Villas-Boas: Pep Guardiola and Jose Mourinho top Roman Abramovich's wishlist(Jason Burt, Daily Telegraph) "Chelsea will then step up their efforts to recruit Barcelona's Pep Guardiola or, possibly, their former manager and Real Madrid coach, Jose Mourinho, who will be charged with rejuvenating the squad in the way that Abramovich finally deemed was beyond Villas-Boas. Although Villas-Boas has been sacked, just eight months after arriving at Chelsea, it does not mean that Abramovich will reverse his plans to overhaul the playing staff who he also blames for the current underperformance. The future of the likes of Frank Lampard, Ashley Cole, Didier Drogba, Florent Malouda and Salomon Kalou will be decided in the summer."
Abramovich wants Pep to deliver 'Barcelona in blue shirts' (Martin Lipton, Daily Mirror)
Jose Mourinho is the only man who can rescue Chelsea after sacking of manager Andre Villas-Boas (Henry Winter, Daily Telegraph)
José Mourinho and Pep Guardiola make intriguing contenders for Chelsea (Sid Lowe, Guardian)
Chelsea must bring back the Special One (Steven Howard, The Sun)
We need the Special One back. But please, not Benitez (Nick Clark, Independent)
Machester United ease to win at Tottenham
Manchester United's winning mentality means they can edge out City and remain Premier League top dogs (Alan Hansen, Daily Telegraph) "City have improved greatly since last season and it is incredibly difficult to separate them from United at the moment, but while United have been over the course and distance so many times, we still don't know how City will react because they don't have that experience of winning a title. Clearly, the game between the two teams at the Etihad Stadium on April 30 is going to be pivotal. Home advantage in that game, and their current two-point lead, ensure that City have something in their favour in what will be an intriguing run-in. But a quick glance at the fixtures between now and then suggests that City will do well to be on top when they face United."
Clinical Manchester United show Tottenham that only goals win games (David Pleat, Guardian) 
Time for FA wise men to speak up in their pursuit of Redknapp (Martin Samuel, Daily Mail)
Time for Bernstein to act. If he upsets Spurs along the way, too bad (Sam Wallace, Independent)
Newcastle 1 – Sunderland 1
Red card pair let O'Neill down (Alan Shearer, Sun) 
Arsenal
Arsenal must sign big players (Antony Kastrinakis speaks with Massimo Allegri, Sun)