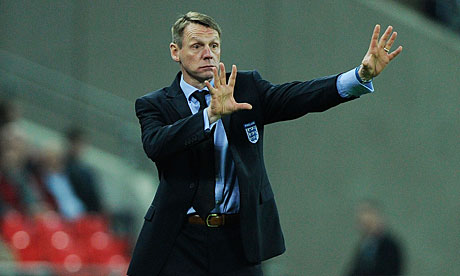 Comment & analysis round-up
Quote of the day: "I don't think any English team should have an inferiority complex but the Dutch had more know-how and more nous in the game. You would expect that in regards to caps, man for man. We still have to find a little bit more confidence in the way we play. It's a belief of playing together a bit longer, galvanising together and getting an understanding within the way they play to have that real confidence in each other. It's difficult to tell if there's time… Game management as well is important thing for English players to learn. The Dutch showed on a couple of occasions when there were breaks on on the goal they were quite happy to bend the rules – in a pleasant way! …Our game week to week in the Premier League is gung-ho all the time. When you get to major tournaments it can't be gung-ho all the time. We have to learn those little things going into tournament football." – Stuart Pearce.
Runner-up: "When I was a young lad and first came to the club, we might have been losing a game 1-0 or 2-1 and I'd have been saying 'Just put the ball in the box' and panicking a bit about losing. Now I'm older and more experienced and know to just keep playing your game because there's always a chance you'll get an opportunity to score. That comes from playing so many games and the experience you pick up along the way." – Wayne Rooney.
Today's top stories
Maybe Harry Redknapp won't be the next England manager…
Harry Redknapp not England's only option as FA draws up shortlist (Daniel Taylor, Guardian) "The Football Association is to draw up an official shortlist for the England manager's job and begin the process of establishing the availability of the people in question, starting with Harry Redknapp. Redknapp's work at Tottenham Hotspur has formed the most significant part of the talks, led by the FA's chairman, David Bernstein, since Fabio Capello resigned over the row about John Terry being stripped of the captaincy. However, Redknapp is not the only candidate who has been discussed at length. While Redknapp is known to want the job, the FA is aware that Pep Guardiola at Barcelona and José Mourinho at Real Madrid would be high-calibre alternatives."
Harry on hold! FA widen the net beyond people's choice Redknapp for England boss (Matt Lawton & Charles Sale, Daily Mail)
Pearce poised as FA fear Harry's 'gone cold' (John Cross, Daily Mirror)
Getting Harry is looking like a tough game (Sam Wallace, Independent) 
… But the pundits still want 'Arry as Three Lions boss
Harry only has four weeks to save England (Steven Howard, The Sun) "In time of national crisis, we often turn to the Paras. And so it is with the FA as they wait for Harry Redknapp to don his red beret and come dropping out of the sky to save the day."
Why are we waiting? Talk to Harry soon… or we could be stuck with Pearce (Matt Lawton, Daily Mail)
FA delay in approaching Harry Redknapp to become England manager risks damaging Tottenham Hotspur (Paul Hayward, Daily Telegraph)
England in chaos
England are falling behind as the race for Euro finals heats up (Matt Barlow, Daily Mail)
FA's delay over appointing manager has left England in chaos (Daniel Taylor, Guardian)
I would give the England captaincy to the man in form (Graeme Le Saux, Guardian
Other Euro 2012 competing nations
Giovanni Trapattoni's Ireland squad for Euro 2012 is virtually decided (David Hytner, Guardian)
French flair is back in fashion (Andy Brassell, Independent)
Premier League
Liverpool striker Craig Bellamy is the Premier League's sprint king — at the age of 32 (Jason Burt, Daily Telegraph)
Why the North East derby is all that matters (Luke Edwards, Daily Telegraph)
Gossip
Pompey could shut in just two weeks (Dan King, The Sun)
Lukaku adds to Chelsea crisis as £18m striker ponders Fulham switch (John Edwards, Daily Mail)