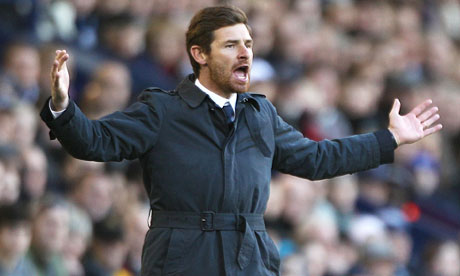 Comment & analysis round-up
Quote of the day: "Every defeat that Chelsea suffer piles more pressure on any manager. Any manager who suffers a defeat at a top club has more pressure on them. It's acceptable that pressure piles. You have to agree that this result puts more pressure on me. We stick to the same position, fifth, but we are now three points behind fourth… Full credit to West Brom for their magnificent game, but we weren't good enough on the day. They won every first ball and every second ball and were far, far superior than us. It was a big disappointment that we didn't build on the win against Bolton and we didn't benefit from this weekend's fixtures. It was a poor, poor display. We had an edge after 10 minutes when we had a couple of chances, and one goal earlier than them would have given us extra motivation and drive. But to be fair we deserved to lose because West Brom also had their fair share of chances and were superior. They created lots of problems, had a good intensity in their game and we weren't good enough. It's a big, big disappointment… If I didn't believe I was the right person I wouldn't have come. At the moment we have to win games. I'm not worried about the future, the present is more important." – Andre Villas-Boas.
Runner-up: "He is an exceptional talent, he's up there with the best in the world. We will do anything possible to keep him, I am very proud of how he has grown, having seen the boy arrive here so timid, turn into the player and the leader he is today. He is always under great pressure because he knows he has to score. You have to give him credit because every time he seems to produce something special. In the first half we didn't create anything, but when you see the ball landing at Van Persie's feet, you think he can get a special goal — and he got one today." – Arsene Wenger on Robin van Persie.
Sir Alex Ferguson: "I think it will be the last time, yes. I see it as inevitable, I really do. I don't see anyone else for England. With the public mood about Harry, the FA would be panicking if they couldn't get him. The drive and energy is all about Harry and it is the right one. His record is there. The best way to judge anyone is the jobs they have done over a long period, different types of clubs in different situations. Whatever way Harry has done it, he has done it well."
Today's top stories
Benitez & Guardiola linked with the Chelsea job with AVB on the brink
Benitez ready to take over at Chelsea after AVB suffers another embarrassing defeat (Rob Draper & Bob Thornton, Mail on Sunday) "Rafa Benitez is on the brink of being appointed the new Chelsea manager and could be in place for Tuesday's FA Cup fifth-round replay against Birmingham. Andre Villas-Boas's team slumped to another embarrassing defeat on Saturday, losing 1-0 at West Bromwich Albion, and the young Chelsea boss admitted he did not know if he would survive in the job much longer."
Guardiola emerges as top target to replace AVB (Paul Smith, Sunday Mirror) "The Roman Revolution Part Eight is about to sweep through Stamford Bridge. Chelsea's billionaire owner Roman Abramovich is poised to end the troubled reign of 34-year-old Andre Villa-Boas and turn to Spain for the answer to his sporting prayers. Barcelona's Pep Guardiola has emerged again as Chelsea's No.1 target – but he will not be available before the summer. Rafa Benitez, the former Liverpool manager, is being seen as a viable short-term boss to produce the kind of stability brought to the troubled club by the experienced Guus Hiddink three years ago. The next switch in manager will be the eighth man to take charge during Abramovich's reign."
Villas-Boas admits he doesn't deserve backing (David Instone, Independent on Sunday) 
RIP AVB (Geoff Sweet, Sunday Sun)
Tottenham v Manchester United
United's wise old men know the score (Roy Keane, Sunday Sun) If Tottenham are going to win today then they better have a couple of goals in them because Manchester United will definitely score. Nobody doubts Spurs are a good side but history will show you that they don't get enough results against the big teams — and I can't see that changing this afternoon. Their mindset is to attack and that's fine against most teams but you can be asking for trouble if you leave yourself open against the likes of United. And it's only a week since Spurs conceded five against Arsenal."
Win at Tottenham and United will know the title is within their grasp (Gary Neville, Mail on Sunday)
Golden oldies Ryan Giggs and Paul Scholes are still a smash hit (Jamie Jackson, Observer)
No song and dance, Brad Friedel wants Champions League football (Duncan White, Sunday Telegraph)
Sir Alex Ferguson poised to pass Sir Matt Busby's milestone (Henry Winter, Sunday Telegraph)
Harry Redknapp for England
Will Redknapp just become another victim in waiting? (Patrick Collins, Mail on Sunday)
Why it may seem like the next England manager has already been decided…if you're a conspiracy theorist, of course (Andy Dunn, Sunday Mirror)
Arsenal's win at Anfield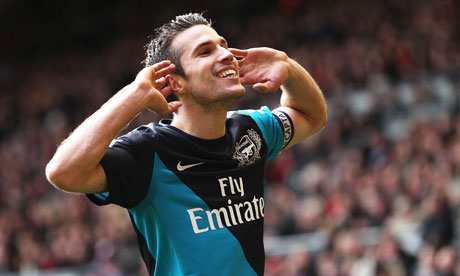 Van Persie hands man-of-the-  match prize to Szczesny after keeper keeps Liverpool at bay (Mail on Sunday)
How had they lost? Liverpool supporters poured out of Anfield baffled and frustrated (Duncan White, Sunday Telegraph)
Mario Balotelli
Late night Balotelli to be stripped of £250,000 as Mancini prepares to read the riot act (Joe Bernstein, Mail on Sunday)
Gossip
Robben hints at making Premier League return (Steve Stammers, Sunday Mirror)
Sunday Specials
Said & Done (David Hills, Observer)
Referees winning the percentage game whatever managers and media say (Daniel Taylor, Observer)
We can get back into the promised land – if we have 'God' in our side (Ian Holloway, Independent on Sunday)