AVB opens up on Chelsea & England's striking problems
Tuesday, February 28th, 2012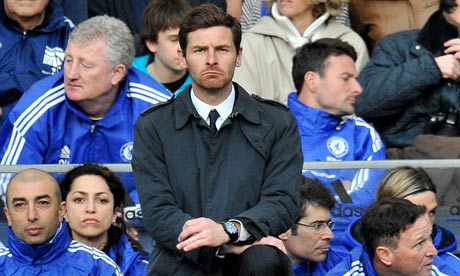 Comment & analysis round-up
Quote of the day: "We are now in the exact same moment as last year, it is an exact copy but with a less experienced coach [in charge]. I know that, in the Abramovich era, we have the worst results but I think I have felt the confidence from the owner. Let's see if he wants a change in the club or not. The pattern of behaviour of the owner has led to a downfall [of managers] in similar situations, or even 'better' situations. What will be his reaction? It will be one of two: either a continuation of the project and full support from above; or a continuation of the cultural pattern that has happened before. We don't know. We don't know if it'll be tomorrow or in two years from now. It'll depend on what is the understanding of what is happening at the moment… We have been through the Torres situation before with [Andriy] Shevchenko and [Mateja] Kezman, but Torres's problems may have also come from a change of philosophy at the club." – Andre Villas-Boas.
Runner-up: "We should be looking to get into Europe every year through our league position rather than through winning the Carling Cup. Yes, it is nice to have a trophy in the bag but we are bigger and better than that. It's great that we have qualified for the Europa League, of course it is, but we want to do that through our league position. It's not the end of the season for us now we've won a trophy.  The simple fact is that at this club there is pressure on, day-in day-out, to play at the highest level. That's what we've got to continue to try to do. The Champions League is where we want to be. We know it is going to be a difficult task and obviously we have got a big game coming up against Arsenal. They will be flying after the win over Tottenham.  But getting back into the Champions League has got to be the next step. Europe is part of our heritage and we need to be involved in it again. Time will tell what it can do for us but this is a good start." – Jamie Carragher.
Paul Scholes: "There is no doubt we had to win and we realise we may have to win every game to win the league."
Top stories
English press gets excited about an AVB interview given last Thursday & broadcast in Portugal last night
Villas-Boas: I won't change to avoid sack (Jack Pitt Brooke, Independent) "Chelsea manager Andre Villas-Boas has said that, despite Manchester City's successes this season, he has no intention of emulating their football. The embattled young Portuguese, a firm believer in his philosophy of the game, said that Roberto Mancini's approach would be better suited to Serie A. 'I refuse to build a team like City, I don't like the standards of their football,' Villas-Boas told Portuguese radio station TSF in an interview broadcast last night. 'City is a very organised, efficient, well-balanced team. All they want right now is to be champions. There's an exact formula to be successful in Premier League, and that's what City is doing right now: attacking efficiency above all. They are an Italian team, they follow the Italian standards. If I saw them playing in Italy, I would say that's where they actually belong."
Why bad results, bleatings and bust-ups have tested Roman's patience with AVB (Martin Lipton, Daily Mirror)
England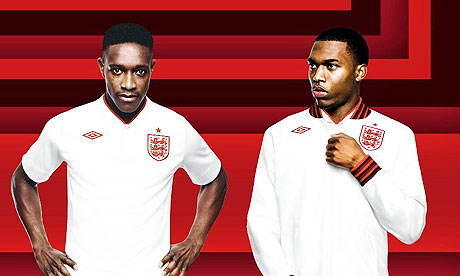 Wayne Rooney's absence highlights England's lack of attacking options (Daniel Taylor, Guardian) "If there is one crucial piece of information that needs to be gleaned from England's three friendlies before the start of Euro 2012, starting on Wednesday against Holland, it is how to realign the front positions now Rooney is suspended for the first two games of the tournament. How serious, maybe critical, the issue is may be gauged by the fact that the two players who will almost certainly form Stuart Pearce's new-look attack at Wembley, Danny Welbeck and Daniel Sturridge, have a combined four substitute appearances between them and the only forward in reserve, Fraizer Campbell, is uncapped and did not even get into Sunderland's starting lineup for their 4-0 defeat at West Bromwich Albion on Saturday."
Bent torment! England striker likely to miss Euro 2012 with ankle injury (Matt Lawton, Daily Mail)
Pearce left short of staff for big audition (Sam Wallace, Independent)
Cultural mix in the England team should make us all feel proud (John Barnes, Daily Mail)
Robert Green encouraged by Stuart Pearce's 'kind words' (Jeremy Wilson, Daily Telegraph)
Arsenal
Now it's time to play Theo up front (Ian Wright, The Sun)
Gunners chief Ivan: 5th place won't hurt (Charlie Wyett, The Sun)
Arsenal must do everything they can to persuade Robin van Persie to remain at the Emirates Stadium (Henry Winter, Daily Telegraph)
Liverpool
King Kenny may talk up revival, but one win doesn't spell greatness (James Lawton, Independent) "Dalglish spoke of a new foothold in the future, but it was maybe telling that when the deadlock deepened at Wembley he was obliged to turn back to the past and send in Dirk Kuyt, the man who might have believed he was operating on the most tenuous of borrowed time with the injection of Andy Carroll at £35m and Suarez at £22m. Stewart Downing dug up some old credentials against Cardiff but, at £20m, he has mostly been as anonymous as the £16m Jordan Henderson."
Wales
Chris Coleman: 'I won't try to be like Gary Speed' (Stuart James, Guardian)
European round-up
Paolo Bandini writes about the Sulley Muntari ghost goal, Raf Honigstein focuses on Hertha Berlin and Sid Lowe chimes in on Rayo Vallecano.
Gossip
Liverpool line up summer spree for Hazard, Martinez and Keita (David Maddock, Daily Mirror)
Arsenal misfit Marouane Chamakh has been offered a £6million escape route to Fiorentina (Daily Mirror)
Miscellaneous
Premier League stars use call-girls, claims striker Saha (Ian Ladyman, Daily Mail)
Holland row [at Euro 96] was more about money than divide over racism (Jamie Jackson, Guardian)