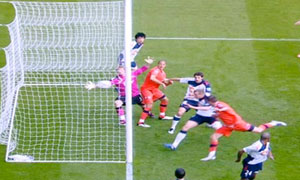 Comment & analysis round-up
Quote of the day: "The laughable thing is that the FA have come out in support of goalline technology within an hour of the game finishing. It is absolutely ludicrous that they try to protect the poor performances of the officials that they supply. Until it comes in, actually do the job that the assistants are supposed to do: which is check whether or not the ball has gone over the line. You ask for the key moments and key decisions in games to be judged correctly. In fairness to Martin Atkinson, he is acknowledged as one of the better referees, and his performance was OK. I just felt he was let down by his assistants. They missed the key moments you have to get. They even got our goal wrong because that was offside, so they haven't covered themselves in glory at all. They missed a penalty, a hand ball in the area, and in the end the guy on my side [Collin] completely lost his nerve to make any decision." – Mark Hughes.
Runner-up: "I don't think any job is impossible. England have won a major tournament – only one, but they've still won one – and we are working in a league where football of a very high quality is played and we are producing players who most people would regard as top European standard. So, impossible, no. You've just got to be even more focused on what's most important because you know that the time you've got with the players is more limited. Otherwise the approach to the job is pretty much the same. I think the top club managers will always be capable of being top international managers." – Roy Hodgson on the England job.
Today's top stories
Arsenal transfer gossip: RVP out, Gotze, Vertonghen in
Manchester City strike agreement for Arsenal's Robin van Persie (Duncan Castles, The National) Arsenal face the prospect of losing a fifth player to Manchester City in three years after Robin van Persie provisionally agreed a contract with the Premier League leaders that promises to make him the division's best paid footballer. City's proposal, which sources close to both club and player say has been accepted, is worth £10.9 million (Dh63.05m) a year, a deal that will place him atop the club's pay scale once Carlos Tevez, whose contract was worth £12.55m including loyalty bonuses, is sold this summer. A transfer fee will have to be agreed with Arsenal for their captain, but with the striker's contract entering its final season, and City's offer almost £100,000 above the London club's pay ceiling, the Gunners will be presented with another strategic dilemma. Arsenal were forced to sell Samir Nasri to City in almost identical circumstances last summer."
We'll beat Spurs into third (Robin van Persie, Sunday Sun)
Why Robin van Persie deserves better than failure with Arsenal (Ian Holloway, Sunday Mirror)
Wenger to break the bank for German teen sensation Gotze (Rob Draper, Mail on Sunday) Arsenal manager Arsene Wenger will take the cost of his summer spending to £35million by adding Borussia Dortmund's £25m-rated teenage midfielder Mario Gotze to Cologne striker Lukas Podolski as his two major buys. Gotze, just 19 but recognised already as one of the brightest hopes in Germany, is ready to join Wenger's rebuilding project – smashing Arsenal's record 2009 purchase of £15m Andrey Arshavin in the process."
Arsenal set to steal Vertonghen from under Spurs' noses (Steve Stammers, Sunday Mirror)
Arsenal v Newcastle: why even fourth place is not good enough anymore (Duncan White, Sunday Telegraph)
Goal-line technology
Give us the technology now, Mr Blatter, and let football join the modern age (Nick Harris, Mail on Sunday)
Dropped a Pollock (Justin Allen, Sunday Sun)
The Title chase
Manchester United have the edge over Manchester City in Premier League title duel – despite Carlos Tevez (Henry Winter, Sunday Telegraph)
Course favours Manchester United over City in two-horse title race (Paul Wilson, Observer)
Hard-earned wisdom helps Hodgson plot United's downfall (Steve Tongue, Independent on Sunday)
The relegration battle
Only two from five can escape, and I fear for my neighbours (Gary Neville, Mail on Sunday)
Lionel Messi
Messi's the modest hero of our truly golden age (Patrick Collins, Mail on Sunday)
Rest of the gossip
£27m Dzeko fighting to save his City future (Simon Mullock, Sunday Mirror)
Berba: My hell (Neil Custis, Sunday Sun)
Sunday specials
Chelsea players' show of unity looks so false (Roy Keane, Sunday Sun)
Said & Done (David Hills, Observer)
Lampard's paedo uncle and girl, 13  (Guy Patrick, Sunday Sun)