6-0, 6-0, 6-0; praise for Andy Carroll & a defence of Manchester City's reckless spending
Comment & analysis round-up
Quote of the day:Â "When you get the chance to seal the game with that penalty you should be taking it, it was a missed opportunity and it galvanised them, got the crowd up and they scored the equaliser. When we got that second goal I thought 'we've escaped here', but to miss a penalty kick to make it 3-1, you're throwing two points away there I'm afraid… "I thought Ryan should have taken it, in the last game we played against Tottenham at home Ryan scored two penalty kicks and Nani was on the pitch the same day. Maybe Ryan should have taken it…Â We've seen that before from Paul – he's done that so many times, once again it was an outstanding performance from him. It's just disappointing we didn't ram home the advantage." – Sir Alex Ferguson.
Runner-up:Â "Torres is a fantastic striker but I think it was difficult for Liverpool to sell him because he's such an important player for them. But it's good for us that we got Balotelli instead. Balotelli could be even better than Torres because Torres can only play as a striker. Balotelli can play as a striker or as a winger. What is sure is we are talking about two fantastic players. In my view, there are eight or nine fantastic strikers in the world – and Torres and Balotelli are two of them. Then there's Ibrahimovic, Ronaldo, Tevez and Messi. They're all fantastic players and we've managed to get one of them." – Roberto Mancini.
The Toon 'tache challenge is over:Â "I'll be shaving the moustache off now that we have won. A few of the lads are desperate to get it off. So's my girlfriend. It's either the end of my moustache or the end of my relationship so I'm glad it's going." – Joey Barton.
Today's overview: There are plenty of different angles to chew on this morning as well as a whole bunch of fine articles.
First up Alan Hansen and Phil Shaw try to understand the cause of the three 6-0s in the Premier League over the weekend and there are also features of tonight's Manchester City-Liverpool match, with Martin Samuel producing a stand-out piece on the Eastlands project.
There is also analysis of Manchester United's draw with Fulham and plenty of praise for Newcastle and Andy Carroll. And comment on West Ham, Blackburn and video evidence.
Transfer gossip is relatively thin on the ground, but there is news of England's 2018 bid and smut involving Peter Crouch and Cristiano Ronaldo.
The goal-crazy Premier League: Alan Hansen wonders about the poor defending in the Premier League. "This weekend, there have been too many occasions when teams have left themselves wide open with poor positioning, but that can be worked on out on the training pitch. One of the best examples to follow is that of Manchester United. Like all the good teams, at Fulham on Sunday they were never caught 3 on 3 or 3 on 2 when their opponents broke away. They always had men back. The lesson is that, in the Premier League, opponents are capable of paralysing you if they are given the time and space to do so. Attempting to play a passing game against better players only spells big trouble."
Phil Shaw tries to analyse the slew of 6-0s. "Two more 6-0 wins will equal the all-time record for a top-division season in England, set in 1892-93. And there are a mere 361 more fixtures for it to happen. But how could this occur in a league which, if the hype and punditry is to believed, is the most competitive in the world, with clubs at the bottom eminently capable of beating their superiors – and after a summer when coaches and players have spent thousands of hours becoming 'organised' and 'hard to beat'? The fact that Chelsea have been responsible for two of the 6-0 victories partially explains their frequency. They demonstrated last season, their first under Carlo Ancelotti, that the days of settling for a narrow win are gone. In keeping with Roman Abramovich's brief, they try to push on and amass the goals that may prove decisive in the event of a close finish at the top of the table."
Manchester City: Martin Samuel writes of the Eastlands project. "Manchester City's total transfer bill since Sheik Mansour's arrival is over £350m, but why the surprise? The moment Platini made his flawed theories a reality, there was always going to be a reckless, lastminute scramble. By spending now, City no doubt hope to buck the system, assembling a powerful squad and achieving success before it becomes almost impossible for the little guy to get ahead. Depending on how City manage the accounts, there could be an even greater advantage. Transfer expenditure is listed in one of two ways: as an outgoing lump sum, or with the fee spread over the years of the contract. So payment for Milner could be shown as £24m now or, for instance, £4.8m over five years, a process known as amortisation."
Liverpool: Tim Rich speaks to Milan Jovanovic ahead of the Eastlands clash this evening. "By rights, Benitez ought to have given Roy Hodgson the kind of note Liam Byrne, the outgoing chief secretary, left for his successor after the general election – 'I'm afraid there's no money.' Instead, he provided something altogether more useful; a 6ft attacking midfielder and sometime centre-forward, Milan Jovanovic, whose winning goal against Germany in Port Elizabeth had provided Serbia's only bright moment of an insipid World Cup. He would not be the only one at Anfield to have that as a subject of discussion."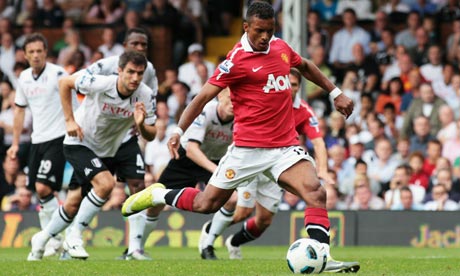 Manchester United: Henry Winter writes "Mind the gap. The warning to Manchester United fans travelling on the Tube to Craven Cottage yesterday will have rung even more painfully in their ears on the way back to Euston. Chelsea lie two points clear at the top of the Premier League table and United must beware the ruthless champions stretching their lead. They think it's all over before it's really started? Not quite, but it almost feels like it. There's a very long way to go in the title race, nine months of negotiating injuries, suspensions and fluctuations of form, but Nani's missed penalty three minutes from time could prove hugely significant come the final reckoning in May."
Daniel Taylor reports "Sir Alex Ferguson faces a series of escalating fines, beginning with a punishment in the region of £1,000, after maintaining his boycott of the BBC in direct opposition to new Premier League rules. Ferguson's refusal to speak to Match of the Day 2 after Manchester United's thrilling 2-2 draw at Fulham today follows weeks of discussions behind the scenes in which he has come under growing pressure from the Premier League and the League Managers Association."
Newcastle: David Pleat hails Newcastle's number nine. "Andy Carroll, wearing the famed Geordie No9 shirt, was instructed to use his excellent heading ability and pull beyond the back post at every opportunity when the ball was wide. The 21-year-old gave the young centre-back Ciaran Clark a constant headache. The striker flicked headers from central positions, and his positioning at the back post when the play was wide provided a clear ascendancy over both centre-backs and full-backs when the ball was delivered. His was a masterclass in leading the line without a partner alongside him. Kevin Nolan was his nearest accomplice, with Joey Barton foraging and Alan Smith, who covered Stephen Ireland's movement on his debut with determined and disciplined marking, anchoring."
Jamie Redknapp also praises Carroll. "The player who stands out for me is Andy Carroll. I picked him before the start of the season as a player to watch and he gave Richard Dunne a real monstering yesterday, to follow Theo Walcott in scoring a hat-trick. That's two Englishmen in the goals. Why shouldn't rookie Carroll now make the jump to the full squad, too?"
Louise Taylor reveals the latest bit of controversy surrounding Joey Barton. "A glorious afternoon for Newcastle United, featuring a hat-trick from Andy Carroll, was overshadowed by Joey Barton's questionable goal celebration today. The mustachioed midfielder appeared to celebrate with a Nazi-style salute after scoring the first goal of his side's 6-0 demolition of Aston Villa. Yet it turned out to be a misunderstanding, as he later said it was a gesture implying that he would be shaving off the upper lip hair he had pledged to grow until promoted Newcastle won their first Premier League game of the season."
West Ham: Steven Howard is worried how West Ham will fare after two defeats already. "Having let in six goals in their opening two matches, they now face Manchester Utd (a), Chelsea (h), Stoke (a) and Tottenham (h). Somewhere, Gianfranco Zola might have afforded himself a wry smile. Scott Parker, who might have joined Spurs, would not have. West Ham skirted with relegation last season and desperately needed three points on Saturday to prevent the sort of tailspin that could, at its worst and noting the fixture-list, see them without a point after their opening six games. It is the sort of start from which most clubs fail to recover. Why Carlton Cole took the first spot-kick is anyone's guess."
Beckham for Blackburn: Sam Wallace looks at the potential takeover of Blackburn. "With respect to Beckham, what Blackburn really do not need right now is the highest-paid 35-year-old in world football. What they especially do not need is an owner who assumes that signing Beckham represents the pinnacle of every English football supporter's ambition. What Blackburn need is the same careful financial husbandry that Williams and his board have demonstrated since the Walker estate stopped funding them. Every club has the right to dream. But, in the post-Portsmouth era, most of the Premier League's weaker clubs would settle for the dream of sustainability. Depending on what interview you read, Syed is promising £100m in transfer funds or up to £300m investment. There are better ways to spend £100m than on transfer fees."
Video evidence: Graham Poll calls for Sepp Blatter to bring in video evidence after events at Stoke on Saturday. "What made the situations so interesting from an officiating point of view was that the referee, Chris Foy had decided earlier in the match to ignore conventional referee positioning at set pieces and take up the 'old fashioned' view and watch from the goal line. In doing so he could not have been in a better place to judge the stoppage time incident. At first he appeared to think the ball was over the line and the whistle approached his lips but then he hesitated and inexplicably looked across for help from his assistant who was 50 yards away looking through players and posts. Hesitation as usual proves fatal as Foy and his assistant gave nothing. They did not say that the ball had not crossed the line, merely that they could not be sure."
Transfer gossip: A number of papres report that Sebastien Squillaci will become an Arsenal player today. The Daily Mail claim Stoke are chasing Peter Crouch and Stephane Sessegnon is keen on a move to England with West Ham and Tottenham interested.
The Daily Mirror run with West Ham chasing Victor Obinna, William Gallas took a pay cut to join Spurs and Celtic are after Newcastle keeper Fraser Forster.
From foreign sources we learn Javier Mascherano will sign for Barcelona within days, Liverpool sent Kenny Dalglish to watch Ola Toivonen yesterday, Lazio and Manchester City are in talks over Roque Santa Cruz and Liverpool are willing to negotiate the sale of Dirk Kuyt to Inter Milan.
The England 2018 World Cup bid: David Conn reports "The Football Association team campaigning for England to host the 2018 World Cup will greet a six-person "technical inspection" delegation from Fifa tomorrow primed to emphasise one core selling point for holding the tournament here. England, they will tell inspectors, is the safe bet, a country whose stadiums, training facilities, transport, accommodation and other infrastructure are already substantially built, and which promises according to the bid team, 'the most commercially successful World Cup in history'. Beginning with a reception at 10 Downing Street hosted by the deputy prime minister, Nick Clegg – David Cameron is away – then a trip to Wembley tomorrow afternoon, the FA will seek to demonstrate during the delegation's four-day visit that England is the low-risk candidate for 2018."
Charles Sale adds "England's 2018 World Cup bid team have been working since the FA Cup final on the transport logistics for the start of today's visit by FIFA inspectors, which has been planned and rehearsed down to the last minute. This included a stopwatch timing of the journey their two FIFA ExCo guests took from Wembley back to the Dorchester Hotel in Park Lane after the final. It was done in 30 minutes last May, which England 2018 plan to match when the six-man FIFA taskforce travel the same route this afternoon in their Jaguar limousines plus escort."
Phone-ins: Martin Kelner wonders about the widespread rise of the football phone-in. "There is a surfeit of this kind of thing at present – at least three national radio stations, and several local ones, fill their airwaves with post-match phone-ins, or 'people dribbling on about football', as it was described to me by a less than captivated listener – and I feel the Football League Show might benefit from rising above the trend. Sure, it is not quite as desperate as You're On Sky Sports (if you find yourself at home one night calling up Jason Cundy, you might want to consider Dignitas as a possible alternative), but the proportion of football to flim-flam on the Football League Show is disappointingly low."
Smut: Peter Crouch finds himself the center of attention yet again. The Sun: "Big Brother beauty Aisleyne Horgan-Wallace has claimed soccer love rat Peter Crouch tried to bed her under girlfriend Abbey Clancy's nose. And Abbey was so furious when she caught the pair together, she threw a BOTTLE at the Spurs star's head. Aisleyne, 31, said the bust-up happened at a Chelsea club where Crouch, 29, was celebrating his birthday with Abbey, 24, and pals."
The Daily Mail have pictures of CR9 and his lady. "Cristiano Ronaldo and girlfriend Irina Shayk have put on a united front at a basketball match after claims the footballer has been 'bombarding' glamour model Rhian Sugden with text messages. The Real Madrid star and his Russian model girlfriend looked very much in love as they laughed and joked together while watching Spain take on the USA at the Caja Magica pavillion in Madrid. It was claimed recently that Ronaldo had taken a liking to Sugden, who Vernon Kay previously sent steamy text messages to, after meeting her in Manchester."
---