QPR's Dubai debauchery, players supporting Benitez, and Spurs' tipping point in North London derby?
Comment & analysis round-up
Quote of the day: "A lot of them thanked me (for speaking out). A lot of the players have been supporting me, telling me to carry on doing my job. They are my private conversations. I have a lot of conversations with the players, and the majority of them say they are happy with the training sessions, the methods, the intensity. We try and do our best, and sometimes we cannot, but I think they are quite happy. You may speak one or two, but there are another 21 you don't know. If you have 25 players in a squad, you'll obviously have one or two who aren't happy, but you can find that in every squad around the world." – Rafael Benitez
Runner-up: At the moment he has a good conversion rate between the chances he creates and the goals he scores – that is quite cyclic.  No (I don't think he can keep playing like this). I think it's certainly the best in Europe in terms of conversion rate and chances created. To maintain that is very, very difficult but, of course, he has good pace and a good shot." – Arsene Wenger on Gareth Bale
QPR's Dubai debauchery
Shock Dubai trip revelations: Harry's QPR stars lift lid on astonishing 5-day booze bender (Martin Lipton The Mirror) Early-morning training sessions lasted barely 90 minutes before the squad were left to their own devices, which saw all-night benders for some and huge bar bills run up, according to accounts given by three players to Mirror Sport. Some players were said to be incapable of training as a result of their partying, resulting in reprimands from Redknapp. In a series of astonishing and candid admissions, players broke ranks to reveal the Rangers camp is split into dressing-room cliques, with jealousy over the massive wage differences and anger at a perceived lack of application by some of the squad.
North-London derby: Spurs supremacy?
Tottenham Hotspur tug at Arsenal in latest twist in North London derby (Sean Ingle, The Guardian)  The formbook offers plenty of encouragement too: Spurs are unbeaten in the league since losing at Everton on 9 December, and have lost one in their past six at home to Arsenal. They also have the x-factor in Bale, whose goals have been rewarded with a sustained media love-in and the player of the month award for February. Recent history, however, holds up a huge warning flag. This time last year Spurs were 10 points clear of Arsenal going into the derby. The narrative was as stale and recycled then as it is now – talk of Arsenal's flimsy defence and Arsène Wenger's fading powers was everywhere. And then things veered wildly off-script, with Arsenal gloriously coming from 2-0 down to win 5-2 and finishing the season with a sprint to beat Spurs in the photo-finish for third.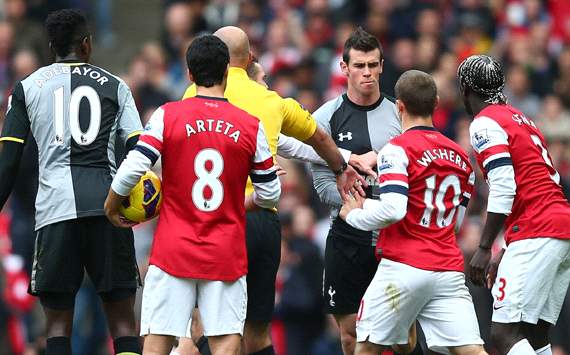 Is this the tipping point in the battle of North London? (Sam Wallace, The Independent) On Sunday, however, there is a very different flavour to the game. Wenger has been under pressure many times in the last five years or so but this one is different. He faces a Spurs team four points ahead of his own in the league and with Gareth Bale, the in-form player in the division, in their side. It is a Tottenham team winning matches in style. Of course, this is the same Spurs who blew a bigger advantage over Arsenal last season, but no one could ignore this year's threat.
Andre Villas-Boas has learnt his lessons and is gunning for Arsene Wenger (James Lawton, The Independent) For a 35-year-old who never kicked a ball professionally, Andre Villas-Boas has compiled an astonishing number of those moments which tell a man he is destined always to be some kind of contender. They have now come either side of the black hole known as Chelsea Football Club, from which he emerged last season severely bruised but a whole lot wealthier, and on Sunday afternoon it could be that he will be more at home than ever before in the upper echelons of the Premier League.
Gareth Bale's superb form brings back memories of John Charles (David Lacey, The Guardian)  When Tottenham signed Bale from Southampton in the summer of 2007 they assumed they were getting a left-back with strong attacking tendencies and a nice habit of scoring from free-kicks. Once Bale had recovered from a serious knee injury Harry Redknapp saw that his ability to outpace opponents and still retain control of the ball at top speed demanded he be played further forward. So Bale became a left-sided midfielder with an old-fashioned goalscoring winger's tendencies; Cliff Jones with a touch of Tom Finney. Under André Villas-Boas his game has broadened to the extent that he is liable to pop up anywhere, left, right or centre. The moment he moves into space with the ball on his left foot opposing defenders, not to mention goalkeepers, are in trouble.
Benitez Boiler Room
Rafa knew what he was signing up for at Chelsea (Terry Venables, The SUN)  Interim manager is the job Benitez was offered and he took it, so there is no point in him complaining about it now. He's a grown-up, he knew what he was getting himself into — and he knew from the start the post would be interim. He knew the supporters would not want him, too, after comments he made about them while in charge of Liverpool. He knew it was going to be tough to win them over as football fans, just like elephants, never forget. Benitez knew what he would be facing and, let's not forget, he also knew what a fantastic opportunity it would be.
Southampton v QPR: 'Arry's Return 
Harry Redknapp craves birthday gift in QPR's year of unhappy returns (Paul Doyle, The Guardian) This will be the first time Redknapp has gone back to St Mary's since a grim year in charge in 2004-05, when he was parachuted in to lift the club higher than 18th place and proved unable to stop them falling to the bottom of the table, ending a 27-season stay in the top flight. Redknapp remained in charge for a few months in the Championship before accepting an offer to defect back to Southampton's arch-rivals, Portsmouth, whom he did guide to survival. For the Saints faithful he is the ultimate sinner.
Interviews
Philippe Coutinho becomes a proper Brazilian for Liverpool (Andy Hunter, The Guardian) If there was bemusement at Liverpool's January purchase, it was not of Coutinho's making or a reflection on his potential. Prior to the signing Rodgers had spoken frequently of the need for experience, leaders and "men" at Liverpool before a small 20-year-old who does not speak English became the club's last recruit of the window. His talent and willingness to learn offer compensation
Chris Smalling learning every day and soaking up club's winning philosophy (Henry Winter, The Telegraph) Training can be as taxing. Javier Hernández, Wayne Rooney, Robin van Persie and Danny Welbeck await him at Carrington. "I get tested each day which is what I need. One minute you can be up against Chicharito and Wazza, and the next up against Robin or Danny. We've four great strikers. Chicharito stays very high in the attack, looking to play on your shoulder. Robin and Wazza like to drop in and try and play-make as well. They have great feet.'