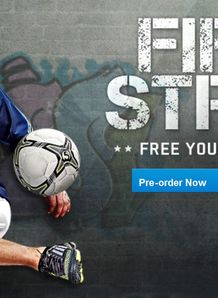 We are delighted to announce that our chums at the always brilliant EA Sports have sent us five (5) copies of FIFA Street to give away to you, our wonderful audience.
This competition is open to all UK residents (EA policy unfortunately), is for games on the Xbox and is running on our Facebook page.
The 101 Great Goals Facebook page can be found here – it is a great community with plenty of chatter and debate with tonnes of videos and crazy images from the world of football.
To whet your appetite, here are some excellent FIFA Street videos, the game has only been out a week and sales are booming following their big signing of Lionel Messi for the front cover.
FIFA Street | Manchester All-Stars – Last Man Standing (feat. Joe Hart, James Milner, Ashley Young and Chris Smalling).
FIFA Street | Arsenal Pro Player Tournament (feat. Jack Wilshere, Alex Oxlade-Chamberlain, Emmanuel Frimpong  and Francis Coquelin).
So, what are you waiting for, to win FIFA Street on the Xbox get over to the 101gg Facebook page.
***
Thanks to all those who entered last week's competition to win a copy of Graham Hunter's excellent "Barça: The Making of the Greatest Team in the World" – the winner has been notified.