The best tweets after Yaya Sanogo starts for Arsenal instead of Olivier Giroud v Bayern Munich
Updated: February 19, 2014
Olivier is out, Yaya Sanogo is in.
The big news before kick off at the Emirates on Wednesday night was that Arsene Wenger had dropped his French international striker Giroud for the young, barely tested raw talent of Yaya Sanogo.
Sanogo had an excellent outing against Liverpool last weekend in the FA Cup, while Giroud's life has been complicated by revelations of a 3am get together with glamour model Celia Kay in the team's hotel room.
Sanogo had hinted at his start an hour before the team news came out, posting a message on Instagram (see above).
Sanogo was also featured on the front cover of Arsenal's programme for the Bayern match.
Below are the best tweets on the news Yaya Sanogo starts for Arsenal instead of Olivier Giroud v Bayern Munich.
Inclined to agree. "@Ebouefan: @gunnerblog It means Giroud has checked out mentally."

— gunnerblog (@gunnerblog) February 19, 2014
127 – Yaya Sanogo has played just 127 minutes of competitive football for Arsenal in 2013-14 before tonight. Gamble.

— OptaJoe (@OptaJoe) February 19, 2014
Wenger doesn't give a flying one. You gotta love that. He's like Ted in that job interview for the convenience store.

— danlevy1 (@danlevy1) February 19, 2014
Delighted for Sonogo! Good luck mate. :-)))).

— Ian Wright MBE (@IanWright0) February 19, 2014
I see a lot of non-Arsenal people with big mouths. I really, really hope Sanogo kicks them shut.

— DailyCannon (@DailyCannon) February 19, 2014
Is Sanogo the reason Wenger wasn't panicked into buying a back-up striker in the window? Has he seen something special? Guess we'll find out

— Gary Lineker (@GaryLineker) February 19, 2014
Could Sanogo be Wenger's Howard Gayle? That was also against Bayern…

— Jonathan Wilson (@jonawils) February 19, 2014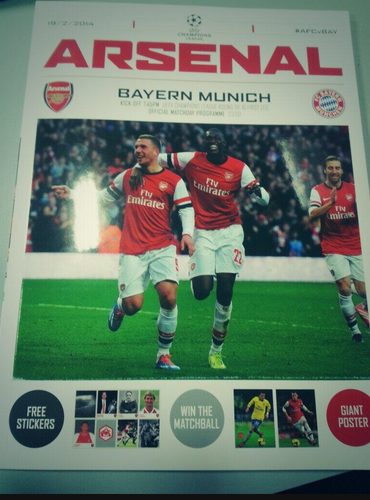 ←
Previous Story
Arsenal vs Bayern Munich: Arsene Wenger Pre-match interview