Quite why most of the awards over the course of a Premier League season are handed out months before the campaign ends is a mystery to us.
Now that the dramatic Premier League season has come to a close, its time for us to rank the top 101 greatest players.
The list below has been under debate for some time now and is in order of the players we think performed the best over the whole campaign.
We are certain there will be disagreements – all we ask is that discussion below and on Twitter and Facebook is kept courteous.
The videos over most of the player names are either golazos or important moments from 2011/2012.
***
1. Yaya Toure (Manchester City), 2. Robin van Persie (Arsenal), 3. Clint Dempsey (Fulham), 4. Sergio Aguero (Manchester City), 5. Vincent Kompany (Manchester City), 6. Wayne Rooney (Manchester United), 7. Paul Scholes (Manchester United), 8. David Silva (Manchester City), 9. Joe Hart (Manchester City), 10. Grant Holt (Norwich)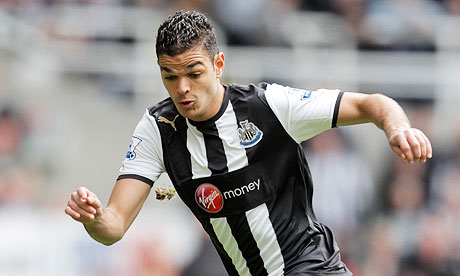 11. Papiss Demba Cisse (Newcastle), 12. Nikica Jelavic (Everton), 13. Ashley Cole (Chelsea), 14. Hatem Ben Arfa (Newcastle), 15. Kyle Walker (Tottenham) ,16. Fabricio Colocinni (Newcastle), 17. Laurent Koscielny (Arsenal), 18. Younes Kaboul (Tottenham) 19. Juan Mata (Chelsea), 20. Wes Hoolahan (Norwich)
21. Ramires (Chelsea) 22. Scott Parker (Tottenham), 23. Pavel Pogrebnyak (Fulham), 24. Adam Bogdan (Bolton), 25. Leighton Baines (Everton), 26. Luis Suarez (Liverpool), 27. Joe Allen (Swansea), 28. David De Gea (Manchester United), 29. Michael Carrick (Manchester United), 30. Scott Sinclair (Swansea)
31. Yakubu Aiyegbeni (Blackburn), 32. Demba Ba (Newcastle), 33. Gareth Bale (Tottenham), 34. Ryan Giggs (Manchester United), 35. Stephane Sessegnon (Sunderland), 36. Ali Al Habsi (Wigan), 37. Tim Krul (Newcastle), 38. Peter Odemwingie (West Brom), 39. Luka Modric (Tottenham), 40. Alex Song (Arsenal)
41. Antonio Valencia (Manchester United), 42. Anthony Pilkington (Norwich), 43. Peter Crouch (Stoke), 44. Junior Hoilett (Blackburn), 45. Gary Cahill (Chelsea), 46. Daniel Sturridge (Chelsea), 47. Yohan Cabaye (Newcastle), 48. Alex Oxlade-Chamberlain (Arsenal), 49, Michel Vorm (Swansea), 50. Fernando Torres (Chelsea)
51. Gylfi Sigurdsson (Swansea), 52. Steve Morison (Norwich), 53. Rafael van der Vaart (Tottenham), 54. Wojcieich Szczesny (Arsenal), 55. Phil Jones (Manchester United), 56. Cheick Tiote (Newcastle), 57.  Steven Nzonzi (Blackburn), 58. Martin Srktel (Liverpool), 59. Thomas Vermaelen (Arsenal), 60. James McClean (Sunderland)
61. Rafael da Silva (Manchester United), 62. Nathan Dyer (Swansea), 63. Leon Osman (Everton), 64. Joleon Lescott (Manchester City), 65. Sebastian Larsson (Sunderland), 66. Youssouf Mulumbu (West Brom), 67. Nani (Manchester United), 68. Martin Petrov (Bolton), 69. Theo Walcott (Arsenal), 70. Samir Nasri (Manchester City)
71. Branislav Ivanovic (Chelsea), 72. Benoit Assou-Ekotto (Tottenham), 73. Victor Moses (Wigan), 74. Jonny Evans (Manchester United), 75. Gareth Barry (Manchester City), 76. Gary Caldwell (Wigan), 77. Jermain Defoe (Tottenham), 78. James Perch (Newcastle), 79. Danny Welbeck (Manchester United), 80. Mikel Arteta (Arsenal)
81. Javier Hernandez (Manchester United), 82. Petr Cech (Chelsea), 83, Brad Freidel (Tottenham), 84. Steven Fletcher (Wolves), 85. Robert Huth (Stoke), 86. Emmanuel Adebayor (Tottenham), 87. Gareth McAuley (West Brom), 88. Ben Foster (West Brom), 89. John Terry (Chelsea), 90. Jamie Mackie (QPR)
91. David Wheater (Bolton), 92. Tim Howard (Everton), 93. Mark Schwarzer (Fulham), 94. Micah Richards (Manchester City), 95. Danny Graham (Swansea), 96. Jonny Heitinga (Everton), 97  Edin Dzeko (Manchester City), 98. Frank Lampard (Chelsea), 99 Pepe Reina (Liverpool), 100. Darren Bent (Aston Villa), 101. Steven Gerrard (Liverpool)