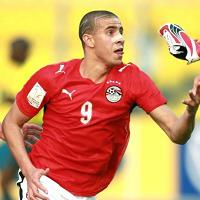 "Zidan is like my older brother, and what happened doesn't go further than an on-camp altercation." Ahmed El-Shennawy.
Former USA coach Bob Bradley is now likely to be fretting over his star striker Mohamed Zidan and reserve keeper El-Shennawy after a training ground bust-up on Wednesday.
There was plenty of handbags from Zidan with the pair seemingly refusing to give up on whatever they came to argue about.
It is not even the first time this year Zidan has been involved in such training ground problems, he clashed with former Borussia Dortmund teammate Antonio Da Silva in January.
Egypt beat Mozambique 2-0 on Friday and play Guinea this coming Sunday in World Cup qualification matches.
The training ground handbags between Zidan & El-Shennawy can be seen here.