Sensational scissors: Xherdan Shaqiri scores one of the goals of the season for Basel v Luzern
Saturday, April 7th, 2012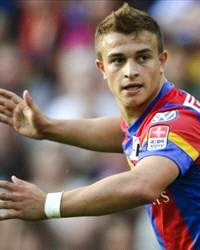 If Bayern Munich fans were licking their lips at securing one of the highest rated youngsters in European football for a fee believed to be 10 million euros, they must be even more excited after Xherdan Shaqiri scored one of the goals of the season today.
Shaqiri, just 20-years-old, was considered by some Basel fans to have struggled in the two recent Champions League matches against Bayern with the pressure of his move to the Bundesliga giants weighing down on him.
On Saturday, Shaqiri opened the scoring against Luzern in the fourth minute as he produced a sensational scissors kick to put Basel in front.
It has already been hailed as the goal of the season in the Swiss Super League and described as a "Traumtor" in Germany.