Ryan Shawcross' shocking challenge on Laurent Koscielny (Arsenal 1 – Stoke 0)
Updated: February 3, 2013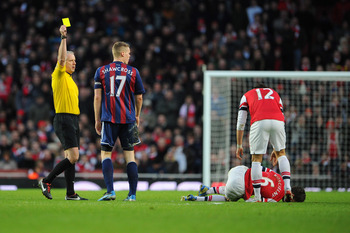 "It looked to me [like it should have been a red card] but I have to look at it again as I am maybe not completely objective when it comes to Ryan Shawcross." – Arsene Wenger.
All the outrage over Michael Owen's (lame) punch on Mikel Arteta may well have obscured a far graver incident late on in Arsenal's 1-0 win over Stoke on Saturday.
Arsenal fans were outraged that the tackle below did not feature on Match of the Day with some relief that it was shown on Goals on Sunday.
Whichever way you look at it, it is a horror show from Shawcross. For those who are unaware, Shawcross broke Aaron Ramsey's leg in six places in February 2010.
Referee Chris Foy handed out a yellow card in the 89th minute with the Emirates baying for a red.
Ryan Shawcross' shocking challenge on Laurent Koscielny is on the video below. (Via Arsenal List.) The best Tweets on the incident are further down.
Shawcross booked for over the top tackle on Koscielny. Studs up, over the ball, straight into Koscielny. Should have been red.

— John Cross (@johncrossmirror) February 2, 2013
To be fair, Shawcross got the ball there. Koscielny's ball, that is. Unsure if it was the left or the right. Shocking challenge.

— FourFourTom (@FourFourTom) February 2, 2013
Shawcross just achieved the utterly impossible – made himself even more loathesome to Arsenal fans.

Shawcross just achieved the utterly impossible – made himself even more loathesome to Arsenal fans.

— Piers Morgan (@piersmorgan) February 2, 2013
←
Previous Story
Remy Amieux (NEC) v Vitesse