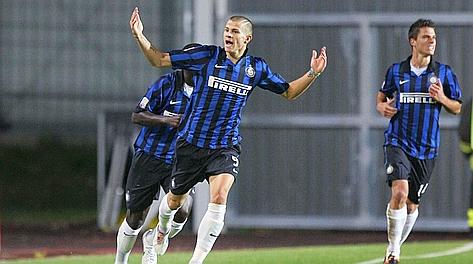 With a shortage of football action over the past couple of days, there has been an opportunity for some youngsters to make a name for themselves.
Inter Milan's youth striker Samuele Longo certainly took his chance with a dramatic hat-trick in the Nerazzurri's 4-3 extra-time victory in the Primavera Tim semi-final versus AC Milan on Wednesday.
This was the Rossoneri's third straight defeat to Inter this season and it was thanks to Longo's finishing – including two goals in extra-time.
Despite the title of this post, Longo is far from being completely unknown, having already played for the Inter first team and appearing for young Azzurri sides at Under 19, 20 and 21 level.
The 20-year-old also banged in the goals during Inter Milan's successful NextGen series campaign, claiming five goals in 7 matches.
Samuele Longo's hat-trick v AC Milan can be seen here. A compilation video of the Inter number 9 in action is below.