Real Madrid will announce Gareth Bale transfer once Spurs complete Eriksen deal [AS]
Thursday, August 29th, 2013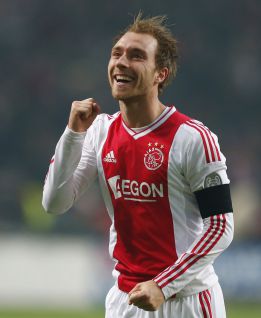 Gareth Bale's world record move from Spurs to Real Madrid is just hours away, according to Madrid-based paper AS.
The longest transfer saga of the summer looks set for completion with Tottenham now set to announce three major signings on Thursday: Erik Lamela, Vlad Chiriches and Christian Eriksen.
Lamela and Chiriches have already been pictured arriving in London whilst reports in both England and Holland late on Wednesday evening confirm Spurs have agreed a 12 million euro fee for Christian Eriksen.
Representatives of the Danish midfielder were discussing personal terms with Daniel Levy on Wednesday.
There is speculation that the three new Spurs players will be unveiled at White Hart Lane this evening, before the second leg against Dinamo Tblisi.
After the Spurs announcement, perhaps this afternoon, Real Madrid will then subsequently announce their Galactico deal for Gareth Bale with the Welsh forward set for a presentation at the Bernabeu on Monday.
Although, this does come with the large caveat from AS that Real Madrid have waited to announce mega transfer deals before, citing the arrival of (Brazilian) Ronaldo in 2002, which came just 10 minutes before the deadline.
But, all signs point to the Gareth Bale transfer saga finally being over on Thursday with Real Madrid finally getting their man.