Live Streaming: Watch PSG v Marseille in the Coupe de France on the 101 Great Goals app
Updated: February 27, 2013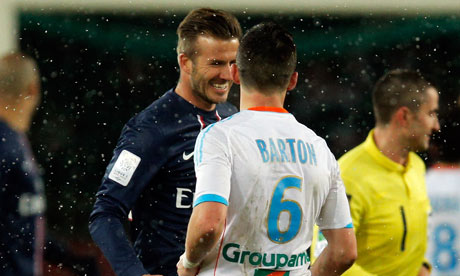 Download the 101 Great Goals app for iPhone & iPad here.
The clash between PSG and Marseille is always a big one in France and tonight's "La Classique" will feature a rather intriguing English midfield battle.
PSG coach Carlo Ancelotti announced on Tuesday that David Beckham would start the Coupe de France quarter final after Goldenballs made a cameo appearance in the 2-0 win over Marseille in Ligue 1 on Sunday.
So, how can you watch PSG v Marseille in the Coupe de France quarter final on the 101 Great Goals app?
Firstly you must download the awesome FREE 101 Great Goals app for iPhone & iPad – link here.
Then head to the blog section (to this article) or the individual team feeds for PSG or Marseille and the video will appear.
Note: PSG v Marseille is only available to those of you based in the UK & Ireland. And can only be seen via an iPhone or iPad (Yes, we are working on an Android version of the 101 Great Goals app!)
Ancelotti said: "He will play defensive midfielder. He has the experience and skills to help us. It's an important position on the pitch, he has to help the team in building the game. As we already know, he also has quality for taking set-pieces."
Beckham will of course face Joey Barton in the Marseille midfield and this match promises to be an absolute cracker at the Parc de Princes – kick off: 19.55.
Marseille, will of course be looking for revenge after losing 2-0 at PSG on Sunday. OM, arguably had the better of the match and were unlucky to lose.
←
Previous Story
Barcelona 1 - Real Madrid 3 longer highlights