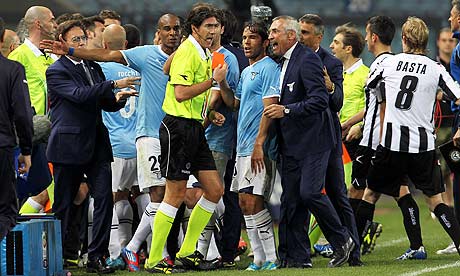 Sunday night's Serie A match between Udinese and Lazio ended in farce with a late goal angering the side from Rome in a crucial match for third spot and Champions League football next season.
Udinese were 1-0 up with seconds remaining when Lazio sent everyone up for a corner, including goal keeper Federico Marcehtti.
When the ball was cleared, Udinese launched an attack but with the match in the 94th minute, the home supporters were whistling urging the referee to blow up.
Which resulted in Lazio players and the returning Marchetti to stop since they thought it was full time. Udinese's Robert Pereyra played on and duly curled in the second goal of the game from a tight angle.
Cue Lazio going ballistic. A scuffle broke out. Andre Dias was sent off. Lionel Scaloni was booked in the 100th minute of the match. And goalkeeper Marchetti appeared to manhandle the referee.
Lazio's anger could well be very costly. Four teams are locked on 55 points in joint third and goal difference is only used as a tie breaker if the teams cannot be seperated on head-to-head records.
Footage of the controversial Udinese goal and Lazio anger (which even included directors) is here.