John Terry confirms on Instagram that Frank Lampard is leaving Chelsea
Whilst many footballers utilise Facebook and Twitter to get their personal messages out, John Terry's preferred network is Instagram and the Chelsea captain has confirmed today that Frank Lampard is leaving Chelsea.
In December, John Terry infamously posted a semi-naked picture on Instagram during the Club World Cup.
Just an hour ago, Terry wrote on his Instagram page: "Devastated is an understatement.We should retire the number 8 shirt in honour of Lamps."
The Chelsea defender posted a picture of himself with Lampard celebrating one of their many FA Cup successes with the following hashtags: "#theheartbeat #hero #legend #hero #goalmachine #friend #ktbffh #cfc #chelsea."
It has been rumoured for some weeks that Lampard would be leaving Chelsea. Perhaps this suggests the veteran midfielder is leaving in the January transfer window?
And, will Chelsea retire their number 8 shirt? They probably should, with Lampard being the man that captained the side to Champions League glory last May.
John Terry's Instagram message is below.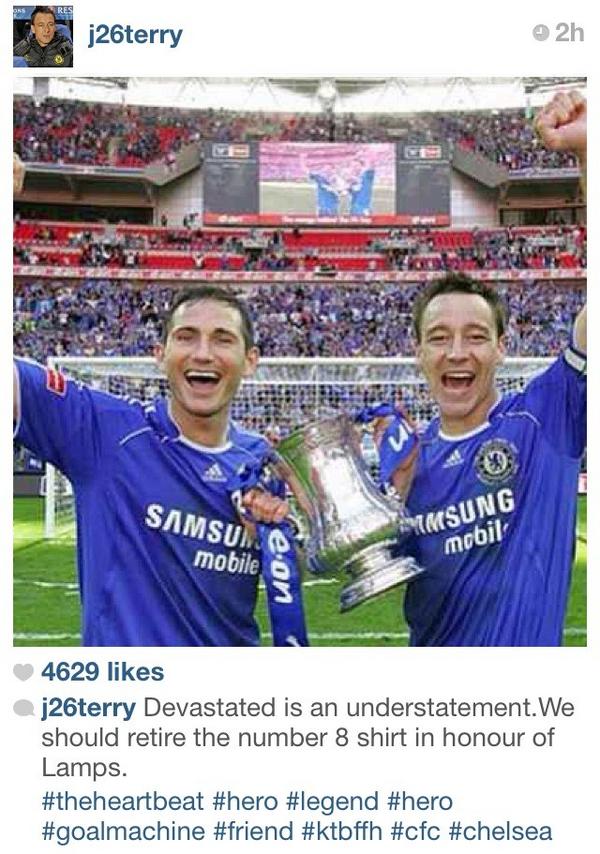 ←
Previous Story
Lionel Messi Best Goals Ever