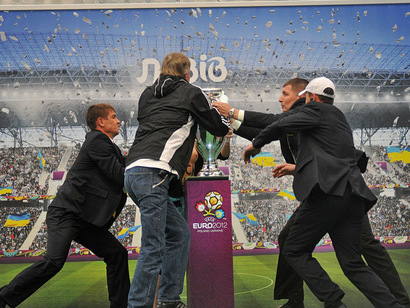 So far, in the build-up to Euro 2012, angry bare chested women have attempted to steal the Henri Delaunay cup in Kiev earlier this month and in Dnipropetrovsk just this week.
The reason behind the FEMEN attacks is their attempt at alerting the world to the surge in prostitution and human trafficking in Ukraine which they fear will only be exacerbated by the upcoming international football tournament.
Whether FEMEN are really helping their cause by flashing their boobies is open to debate but you can't fault their desire to spread their message and it feels like we could be recounting their escapades for quite a few weeks yet.
In Lviv on Thursday, FEMEN activist Yana Zhdanova stood by the cup and lowered her top with her stomach reportedly showing a "F*** Euro 2012″ message.
It appears the Ukranian authorities are on to this now, as security officials immediately surrounded Zhdanova as can be seen below.