Deja Vu! There were freakish similarities between West Brom's 1978 & 2013 wins v United at Old Trafford
Thursday, October 3rd, 2013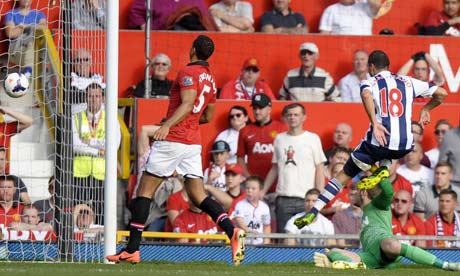 The moment the final whistle blew at Old Trafford last Saturday, we were inundated with the fact that this was West Brom's first win at the Theatre of Dreams since 1978; but little is known about that mysterious game some 35 years ago.
The Baggies won that game 5-3, so on paper there may not seem much to compare, but a viewing of the game produces two striking, freakish similarities between the two historic wins.
Exhibit A:  Berahino's opening goal at OT last Saturday bears a striking resemblance with Cantello's from '78.
Exhibit B: Definitely the more freakish of the two similarities: Lawrie Cunningham, soon to be of Real Madrid, went on a marauding run down the right wing, and though it didn't end in a goal like Amalfitano's did on Saturday, the path and speed of the run is almost the exact same!
Freaky!
Watch the freakish similarities between the Baggies two historic Old Trafford wins on the clip below.