Bored Marouane Fellaini caught texting from the stands during Manchester United – Newcastle [Pics & Tweets]
Updated: December 7, 2013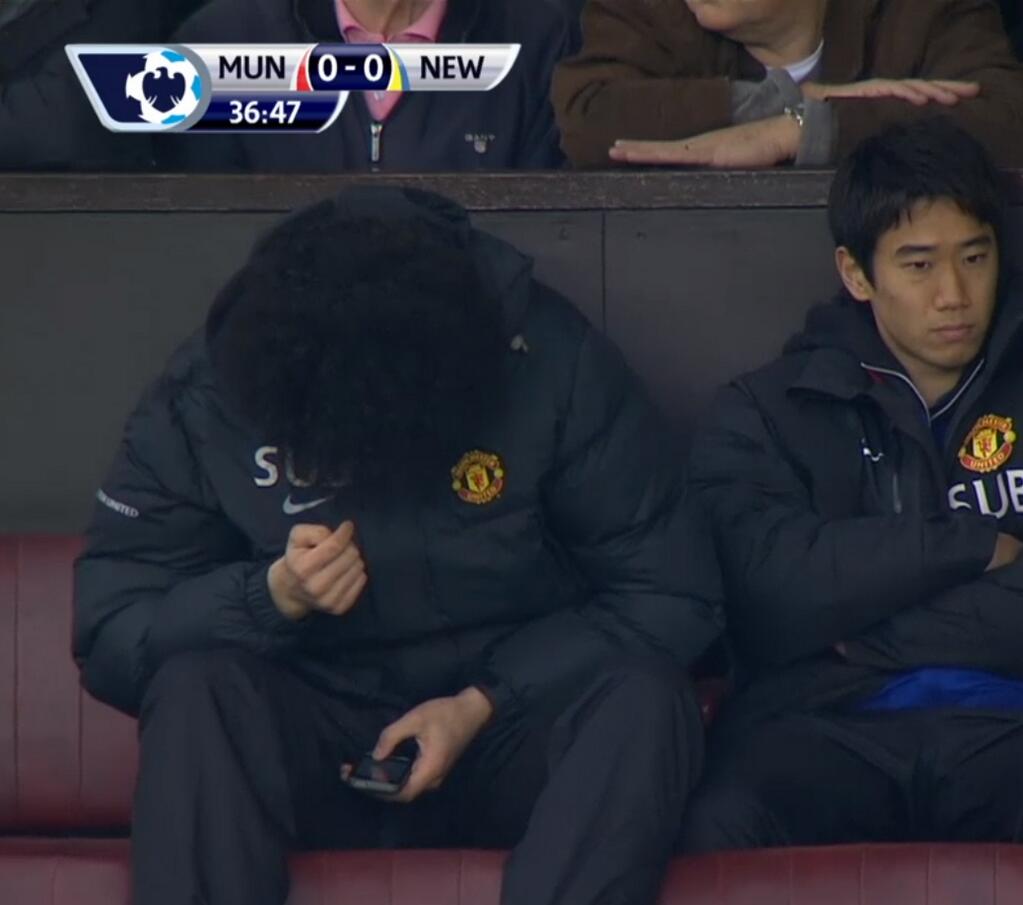 Alex Butner, Marouane Fellaini, and Shinji Kagawa were quite a conspicuous sight watching on from the stands after failing to make Manchester United's matchday squad today.
The trio carried the haunted looks of men whose wives had just run away with the milkman, and would clearly have rathered be anywhere else in the world than freezing their asses off in the stands.
So bored was Fellaini that he surreptitiously whipped out his phone for some cheeky texting, somehow thinking that by covering his face he'd pass incognito.
The best tweets and pics of the trio gurning on the bench are below.
Guess fellaini was watching porn

— Pastor W. Green (@Wande_marley) December 7, 2013
People moaning about Fellaini texting during the game? Personally I'd much perfer him doing that than playing in our midfield.

— adam jones (@adamsupra_MUFC) December 7, 2013
Lool,wait is Fellaini on the bench with his phone!!lmaoo who does that

— Bimbo! (@GrownLittleMan_) December 7, 2013
Lool RT @brianmuuo: LMFAO RT @Kimanzi_: Heheh "@rileyarnie: Fellaini trying to see if united have put him on OLX"

— Smith +254. (@Smith_Kline_) December 7, 2013
Fellaini can text fast.Only positive of the 1st half.

— Joe the Despairing (@Ruin1256) December 7, 2013
RT @AkemAiman: Fellaini with his phone on the bench. Don't blame him, Candy Crush and the internet way more appealing than the game.

— yasier. (@_yxsixr) December 7, 2013