Barcelona-Chelsea pre-match pressers: Cech jokes about Mourinho & is Guardiola cracking up?
Tuesday, April 24th, 2012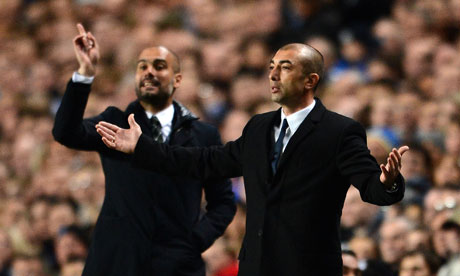 The excitement for the Champions League semi-final second leg between Chelsea and Barcelona was palpable on Monday afternoon as Pep Guardiola, Gerard Pique, Roberto Di Matteo and Petr Cech all appeared in front of the media.
After Roberto Di Matteo had confirmed Chelsea "will need a bit of luck," questions were asked of Petr Cech regarding Real Madrid's win in Barcelona on Saturday night.
Cech showed off his lighter side by joking that Jose Mourinho had already had a meeting with his former Chelsea players and that "The Special One" had sent over his scouting file. Watch the hilarity here.
Barcelona also had their time in front of the press with Gerard Pique studiously avoiding to criticise Didier Drogba for diving.
Pep Guardiola was the most interesting of all four personalities put in front of the media with suggestions that the Barcelona boss is struggling under the weight of expectation.
Most notably this was borne out during a discussion of Christian Tello's performance versus Real Madrid where he said: "He played a f****** good game. I mean most of the dangerous chances were created by him."
Undoubtedly the Barca boss was tetchy, as can be seen in a couple of clips where Guardiola urged his players to step up and told the press to "lay off Lionel Messi" who is going through a "goal drought" having failed to score in two games!