Aston Villa fans salute Stiliyan Petrov during Chelsea defeat
Saturday, March 31st, 2012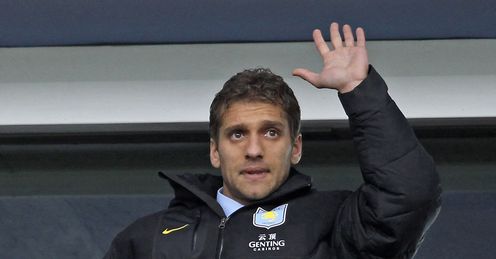 "I am sure I will beat this illness and I am determined to do this. For me, football will have to take a back seat for a while but I will continue to support my team-mates." – Stiliyan Petrov, statement read out before Aston Villa's defeat to Chelsea.
"We saw 'Stan' in the dressing-room before the game and I think some of us weren't sure whether to applaud or cry. He shook everyone's hand and everyone embraced him." – Aston Villa boss Alex McLeish.
Much of the build-up and subsequent match between Chelsea and Aston Villa on Saturday was dominated by the firm home support shown to Stiliyan Petrov, after it was announced on Friday that he had been diagnosed with acute leukaemia.
Petrov will start receiving treatment on Monday and rumours abounded before the Premier League game that he had retired, these were quickly denied.
The Bulgarian midfielder surprisingly attended the game and was visibly emotional when on 19 minutes (due to his shirt number at Aston Villa) there was a minute's applause from the whole of Villa Park.
After Gary Speed and Fabrice Muamba earlier this season, it was another emotional day for English football.
Videos: Aston Villa fans salute Stiliyan Petrov in the 19th minute v Chelsea.
Fan Footage of Aston Villa's minute's applause for Stiliyan Petrov on 19 minutes v Chelsea.