Arsenal fans light up Twitter with the hashtag 'If Ozil Signs For Arsenal I Will…'
Updated: September 2, 2013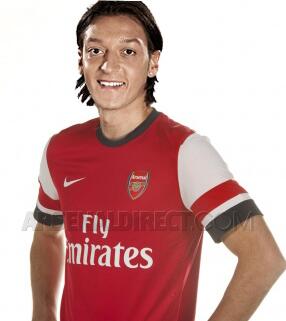 Transfer deadline day in England kicks off with all eyes focused on Arsenal.
Following Gareth Bale's world record move from Tottenham to Real Madrid, the dominos finally look set to tumble in the 2013 summer transfer window with Real Madrid looking to offload some of their top players in order to fund to 130 million dollar purchase of the Welsh wizard.
Mesut Ozil's departure from the Santiago Bernabeu now looks certain if the chatter in Spain and England is accurate, and by all accounts Arsenal are set to land the German international on the final day of the window.
Having seen Arsenal linked to so many players over June, July and August, many fans of the Gunners are taking a wait and see approach to the Ozil gossip, which in turn has spawned a new hashtag on Twitter: #IfOzilSignsForArsenalIWill.
A series of the best tweets using the new hashtag are below.
#IfOzilSignsForArsenalIWill pretend that i never said #WengerOut pic.twitter.com/mkpuyrt8Wq

— Olé Gunnar (@1kammy) September 1, 2013
#IfOzilSignsForArsenalIWill congratulate him on the fantastic move to a great club pic.twitter.com/i2cY3G6PyC

— Hugh G. Rection (@chloethfc_) September 1, 2013
#IfOzilSignsForArsenalIWill post all the naked pictures of my girlfriend on twitter

— Liam Scott (@liamscott1997) September 1, 2013
#IfOzilSignsForArsenalIWill react like this… pic.twitter.com/HcqrOwqhmp

— 'Lucy (@Lucfergy) September 1, 2013
#IfOzilSignsForArsenalIWill sponatneously morph into a tiger/rabbit out of shock pic.twitter.com/y07epV9HbK

— JOEY GOOOONER (@joelsydenham) September 1, 2013
#IfOzilSignsForArsenalIWill wear a black armband for rest of season to moutn the death of his career.

— Ian Buxton (@theimpking) September 1, 2013
#IfOzilSignsForArsenalIWill attempt a wenger smile pic.twitter.com/tRG2Fb65Hv

— Agent Coulson (@bazingarob) September 1, 2013