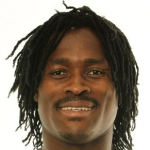 Ghana midfielder Derek Boateng is an experienced midfielder with plenty of international caps as well as a spell in Spain with Getafe, so we can only put yesterday's crazy red card down to a bad day at the office.
There have also been sensationalist headlines in Ghana in recent days claiming Boateng cheated on his wife but that also seems way too tabloid as an explanation for why the defensive midfielder completely lost it on Saturday.
With nine minutes left of Dnipro-Vorskla, with the scores 1-1 in the Ukrainian Premier League match, Boateng came in late on an opposition player.
Having already been booked, Boateng was pretty cheesed off to receive a second booking but before the official could get his card out, the Dnipro midfielder pushed another Vorskla player to the ground.
To complete his hat-trick of knockdowns, by the time Boateng was shown a straight red, he had knocked another Vorskla player with a tame push.
Video of Derek Boateng knocking down three Vorskla players in 10 seconds is here.