A Girlie Golazo: Marta's fabulous backheel goal on her Tyreso debut vs Orebro
Tuesday, April 10th, 2012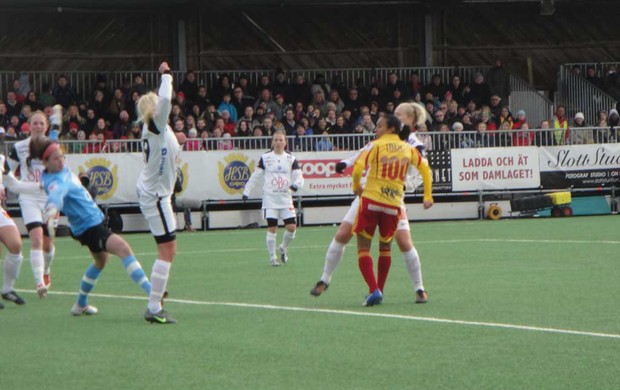 Marta had a dream debut on Sunday.
With the American Women's Professional Soccer suspended in 2012 amid a legal dispute, Brazilian female superstar Marta left the Western New York Flash to join Tyreso in Sweden. Sunday witnessed the start of the Damallsvenskan, and Marta's impact was immediate.
Wearing a shirt with the unmissable number 100 plastered on her back, Marta scored twice in Tyreso's 7-0 season opener against KIF Orebro. Her first goal, however, got everybody excited.
With Tyreso already 4-up in the 55th minute it was time for a bit of Brazilian magic. After Orebro's keeper blocked a shot, the ball fell invitingly to Marta on the edge of the 6-yard box at which point she flicked the ball over her shoulder before backheeling it into the net.
Almost as good as the goal was the celebration: Marta led her new teammates in a Samba dance, only for most of the ladies to quickly flake away when they realised they failed to have the rhythm to keep up.